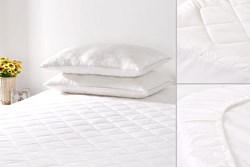 Make your bedroom in a perfect order with our silk filled mattress topper.
Doland, SD (PRWEB) September 18, 2013
Lilysilk, a leader in the silk bedding market, is now providing its best quality silk filled mattress topper to customers home and abroad. Housewives make good comments on these delicately designed mattress toppers
The top quality silk-filled mattress toppers at Lilysilk.com are elegantly made to flatter various bed types, and feature several characteristics: delicate design, soft and cozy feeling, huge healthy benefits. They vary in sizes, so housewives can find the perfect bed decor. Similar to Lilysilk duvets, these mattress toppers are hand-filled by 100% naturally long mulberry silk floss, which are cased in a soft cotton sateen exterior. It comes with tough elastic bands around the four corners which can simply hook on the corners of the mattress.
Mike Lee, CEO of the company, said, "Our mattress toppers are compacted like sleep pads and made to fit exactly on the top of the mattress for tidy fitting. We exam the filling to covering carefully, so you will never need to bother cold spots or shakedown. Make your bedroom in a perfect order with our silk filled mattress topper. Buying health and comfort for the one you love is better than anything else, isn't it?"
In addition, the topper not only offers defense against dust mites but also provides a supreme relaxation to people who are tired and eager to go to bed. Silk is naturally hypo-allergenic, which is beneficial for allergy suffers like hay fever, and those who suffer aches and pains when sleep at night. According to Mike, these mattress toppers are the perfect gifts for beloved ones at special occasions, such as birthday, anniversaries, and Christmas.
About Lilysilk
As a leading online store that offers silk bedding, Lilysilk's mission is to bring luxurious comfort to everybody's bedroom. High quality at competitive price, free and fast delivery, good customer service, all those make Lilysilk popular.
For more information, please visit: http://www.lilysilk.com