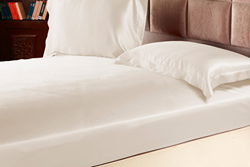 The purpose of a fitted bottom sheet is to keep it from slipping off the mattress while the bed is in use.
Dallas, TX (PRWEB) May 31, 2014
Lilysilk company is a publicly-accepted silk manufacturer offering hundreds of silk sheets for customers. Recently, the company has introduced its close-fitting silk fitted sheets to the world with the option of customization service. Since Lilysilk started introducing their fitted sheets to customers worldwide, they have received lots of praises and comments, and orders.
Based in China, Lilysilk.com has a long history of manufacturing silk bedding wares. They would like to investigate the market and know what customers need in details. In many areas of the world, a second flat bed sheet is laid on top of the sheet covering the mattress. This is known as a "flat sheet" and when a top sheet is used, the sheet covering the mattress is known as a "fitted sheet".
The quality of bed sheets is often conveyed by the thread count - the number of threads per square inch of material. In general, the higher the thread count, the softer the sheet. Fitted sheets' rapidly expanding customer base has come to value the high quality and extra-ordinary comfort of luxurious sheets. Lilysilk fitted sheets are delicately tailored from 19 momme mulberry silk and chosen from the 400 thread counts silk. Their designers value the silk's benefits and take advantage of them to tailor this fitted sheet which has 16 inches deep and elastic tie all around the edge to create a nest design.
"The purpose of a fitted bottom sheet is to keep it from slipping off the mattress while the bed is in use. The double silk sheets provide much more personal comfort and royal luxury," Christopher said, one the their famous designers.
Lilysilk.com also offers the best quality silk flat sheets at competitive prices, which are durable and breathable, and beneficial for body and skin. Duvet covers and pillowcases in terse or oxford style included in the bedding collection are both exquisitely designed for luxurious bedroom decoration. Silk is luxury, and Lilysilk aims to bring the affordable luxury to the world and hopes more and more people enjoy such silk benefits day and night.