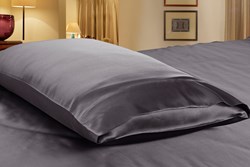 Silk pillowcases are important and beneficial for skin and hair.
Turpin, OK (PRWEB) September 14, 2013
Lilysilk.com is a reliable online store which has years of experience in designing silk bedding and silk comforters. The company aims to expand its market share and bring much more healthy tips to customers. Today, they proudly announce their beauty secret in public, and suggest people to use 100% pure silk pillowcases for sleep at night.
As an experienced silk manufacturer, Lilysilk knows that silk is woven closer together than cotton and other materials. They note that pillowcases made from 100% pure silk provide a certain amount of slip or give required to prevent sleep crease and even skin stretching, while fibers in the traditional pillowcases continuously tug at delicate parts of the face and neck during night. For these reasons, Lilysilk only offers the best quality silk pillowcases to customers home and abroad.
"Silk pillowcases are important and beneficial for skin and hair, so we hope our customers can realize this point. Besides, these top-quality silk pillowcases are designed for customers at affordable prices. Ladies do not need to pay much money to look gorgeous. The night comes down, dream a sweet dream like a well-protected princess or prince," says Mike Lee, CEO of the company.
Lilysilk's online research results show that, many people approve the fact that silk plays a big role in their lives, and note that they prefer to own silk bedding for sleep. Customers' choices are the energy for Lilysilk to explore much more superb quality silk products.
About Lilysilk
Lilysilk specializes in the manufacture and retail of high-end silk bedding and silk comforters, as well as the related accessories. After-sale service is excellent and praised by customers. Top quality, affordable prices, free delivery, are the reasons to choose Lilysilk.
For more information, please visit: http://www.lilysilk.com.