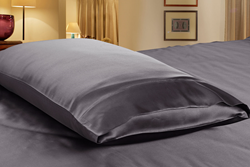 We promise that we only use the 100% pure silk to make into sheets and comforters.
Pampa, TX (PRWEB) November 26, 2013
As a distinguished silk bedding store, Lilysilk has recently announced a big discount, up to 30% off, on its silk pillow set which includes one pillow and one pair of charmeuse silk pillowcases.
Lilysilk has a big dream that one day more and more ladies and gentlemen could indulge in silk sheets. All the silk sheets from Lilysilk.com are famous for rich choices of colors, fine tailoring, delicate designs, and gorgeous looks. Lilysilk.com is ready to help people to own ruddy complexion and smooth skin with these 100% pure silk pillows paired with silk pillowcases.
This time, the company launches a special offer on pillow sets for new and returning customers. For example, it costs customers $305 to purchase one pillow and one pair of pillowcases in old days, but now, it only needs $213.5 for them. The campaign expires on November 28th,2013.
"We are very pleased to launch such big discounts for pillows. We promise that we only use the 100% pure silk to make into sheets and comforters. Because we are also the manufacturer of bedding, we have advantages and conditions to offer affordable products," says Mike Lee, CEO of Lilysilk.
In addition, the company is also offering the 45-day risk-free guarantee of returning goods only if they are not washed or used and in their original package. Customers could feel assured to purchase at Lilysilk online store.
About Lilysilk
Lilysilk is a reliable and people-oriented silk bedding store, which aims to bring the best quality silk sheets, comforters and pillows, blankets and coverlets, to customers at home and abroad. Customers would not spend too much money purchasing these luxurious products at Lilysilk.com. Fine tailoring, delicate design, excellent customer service, speedy delivery, are reasons to choose Lilysilk.com.
More information about discounts for silk pillowcases can be accessed at: http://www.lilysilk.com/.