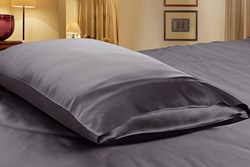 Anyone who receives these pillowcases will undoubtedly love them and thank the gift sender from his or her heart.
Syracuse, NY (PRWEB) December 04, 2013
Lilysilk, one of the most well-known names in the silk retail industry specializing in high-end luxury silk products, has just announced the introduction of 25mm silk pillowcases into their selection of luxury silk pillowcases. Customers can now order these pillowcases on Lilysilk.com to enjoy the ultimate beauty sleep.
"We are glad that we were able to introduce these top-of-the-line pillowcases before the start of this year's Christmas shopping season", says Company CEO Mike Lee. "Customers who have been dreading the question of what they should get for their loved ones this year can now breathe a sigh of relief, as anyone who receives these pillowcases will undoubtedly love them and thank the gift sender from his or her heart - if they don't immediately, they will after having the best night's sleep of their life."
The 25 momme silk pillowcases are made from top-quality, 100% natural Mulberry silk just like other Lilysilk products, except that the silk used in them has been handpicked out of the best 25mm quality Mulberry silk, and through artisan workmanship, woven into a fabric so fine it feels like it would flow from one's fingertips like water. These pillowcases come in both Oxford (with valance around the edge) and Terse/housewife styles and in standard, queen and king sizes. The color selection is slightly more limited than the 19mm and 22mm product lines, due to the fact that these pillowcases have just been introduced, but with universal colors like ivory, white, black, taupe, violet and charcoal available, customers shouldn't have too much trouble when choosing the right pillowcase for their loved ones.
While the price of $75-$100 per pillowcase may sound slightly more expensive than what one would usually expect of pillowcases, it should still be perfectly affordable for most shoppers, and the numerous scientifically proven benefits of sleeping on silk would undoubtedly outweigh the monetary drawbacks. Customers are encouraged to visit Lilysilk's FAQ page and learn about these benefits including less facial lines/wrinkles, less hair breakage, better skin moisture retainment, greatly improved overall sleep quality, and many more.
For more information on the sales, visit Lilysilk.com.