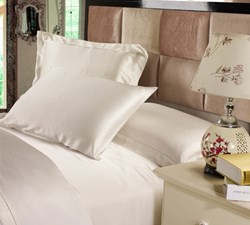 We are confident to be one of the best brands of silk sheets.
New York, NY (PRWEB) January 04, 2014
Lilysilk is reputed as one of the best brands of silk sheets in the current market that is aiming to offer high quality silk sheets including duvet covers, fitted sheets, flat sheets, pillowcases etc. Recently, the company has launched a big promotion, 20% off, on silk pillowcases in 22/25 momme weight. According to Mike Lee, Sale manager of Lilysilk, customers that only buy 6 pillowcases at a time could enjoy that discount.
Lilysilk company exquisitely designs its silk pillowcases into two styles, namely Oxford pillowcases and Terse pillowcases. The former ones have two-inch borders for luxury and taste, while the latter ones are simpler and delicate. All these styles are popular among those who want to take care of their facial skin and hair.
"We are confident to be one of the best brands of silk sheets. We offer excellent service and top quality products. All the silk pillowcases are handcrafted from 100% pure and natural silk," says Mike Lee.
Purchasing silk sheets on the net is not trivial. Reliability of the website, quality of the goods and service, and the delivery time are all taken into consideration by customers. Lilysilk provides 3-day free delivery, a 45-day, no-hassle return policy, as well as instant live help and email replies. Any questions about their products or promotions can be answered within 12 hours. Moreover, all their silk products are inspected at every step of the production process to ensure quality and safety. The silk fabric used in Lilysilk bedding store is organic and skin-friendly.
In addition, the company also launches other promotions on silk bedding sets. Customers can get additional silk scarf worth $60 along with their orders of silk sheets which exceed $200. Much more information about silk products and promotions can be found at: http://www.lilysilk.com/.