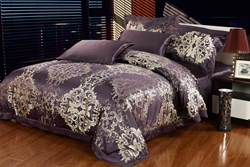 Our sheets are delicately tailored by our distinguished designers
Baldwin Park, CA (PRWEB) November 13, 2013
Recently, Lilysilk has announced a special offer on its best-selling silk sheets, and the promotion is valid until Thanksgiving Day. Lilysilk is a leading supplier of silk sheets, which aims to bring the best bedding to customers.
Sheets from Lilysilk bedding store, feature fashionable designs, gorgeous looks and delicate craftsmanship. According to Mike Lee, CEO of Lilysilk.com, all customers can enjoy the discount, up to 10% off, when they shop at Lilysilk.com. For example, the total price of a queen size fitted sheet and a pair of pillowcases that are made of 22mm mulberry silk was previously priced at $459, and they are offered at a new discounted price of $413.1 now.
Mike Lee says, "Our sheets are delicately tailored by our distinguished designers.... So,we can offer the customizing option for customers who have special demand on their bedding. Customers could leave us a message about their requirements when they check out.... This time, we launch a special offer on fitted sheets and pillowcases. All clients can save 10% off on the total prices of fitted sheets and pillowcases."
In addition, customer satisfaction is Lilysilk's most important part of its business. The company strives to do its best to meet customers' needs. They also offer similar discounts on silk comforters and duvet covers.
About Lilysilk.com
Lilysilk is a professional manufacturer and retailer of silk products, which is offering a wide range of silk sheets, comforters, pillows, mattress toppers, and other related accessories. All these products feature high quality, delicate designs, fine tailoring, and exquisite craftmanship. Customers choose Lilysilk for its excellent customer service and reliable quality.
More information about fitted sheets sale can be accessed at: http://www.lilysilk.com/