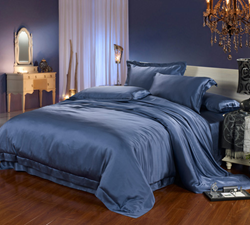 Customers are the most important part of our business.
Dallas, TX (PRWEB) April 23, 2014
Recently, Lilysilk, the leading silk manufacturer and retailer specializing in silk bedding items, has offered silk swatches and cocoons for free before customers place their orders. The business offers a chance for customers to know much more basic knowledge of silk.
Seeing is believing. The company tries to tell customers how important the silk is in the daily life. All silk products from Lilysilk are delicately made by professional designers and workers. Besides, they invite customers to ask for swatches first. The business promises to use the 100% high-quality silk fabrics to make into their sheets and pajamas for customers. They offer all the colors they have at their website, but customers could only choose 5 colors at most by leaving them email and address.
Mike Lee is a gentleman who values customer satisfaction a lot. "Indeed, it costs a lot to offer free silk swatches and cocoons. But we are really glad to do so. Customers are the most important part of our business," says Mike Lee.
He continues, "We would like to offer 10% off discounts on the silk-sheets-collection. It is easy for customers to enjoy silk touch without paying too much money. It is a win-win situation."
About Lilysilk
Lilysilk is a reliable supplier of silk sheets and other accessories, and its sheets are featured with gorgeous looks and delicate craftsmanship. The rapidly evolving customer-oriented products and services have helped Lilysilk become one of the world's top brands of silk bedding wares. Excellent customer support, high-quality, speedy delivery, and competitive prices, are the reasons to choose Lilysilk.
For more information, please visit: http://www.lilysilk.com/.