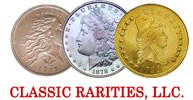 Hamburg, NY (PRWEB) July 19, 2013
Classic Rarities LLC, a rare coin dealer in Buffalo, N.Y., recently introduced a new mobile site for information on their coin dealer services available right from your mobile phone.
Information available through the Classic Rarities mobile site includes details about the services at Classic Rarities, updates on the coin and currency market and ways to contact Classic Rarities for Selling your coins.
Buffalo, New York's premier coin dealer John Magavern has been active in rare coin dealing for 24 years and is certified in grading coins by the American Numismatic Association. Magavern founded Classic Rarities over a decade ago to pay you top dollar for your rare coins and old currency. Magavern works with a large network of national dealers and collectors allowing him to pay you the most for your coins.
A wide range of coin dealer services are provided by Magavern at Classic Rarities. This includes the purchase of coin holdings for immediate cash, liquidation of coin collections, appraisals, grading and private consultations.
John Magavern will buy all U.S. silver dimes, quarters and halves from 1964 and earlier, as well as silver dollars from 1935 and earlier, Kennedy halves from 1965-1970, old coin albums, silver and gold coins, commemorative coins, silver and gold eagles, silver and gold bars, U.S. mint and proof sets, all key date coins and more.
Contact Classic Rarities for more information by calling (716) 863-9099 or visiting http://www.classicrarities.com.
Coin dealer serving Buffalo, NY and surrounding areas.
They are open Monday through Saturday from 10 a.m. to 6 p.m.
About the company:
As a Buffalo NY rare coin dealer, John Magavern is well respected both locally and nationally within the numismatic community for honest and professional dealings. Being essentially a one-man operation, Magavern states, "I'm not the largest dealer out there, nor do I want to be! As a rare coin dealer in Buffalo NY, my many years of experience have taught me to keep service high and costs low, helping me to pay you more for your coins." Please visit the Classic Rarities website for more information.