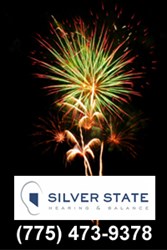 Reno, NV (PRWEB) July 03, 2013
Fireworks are fun, but very dangerous. While most words of warning regarding fireworks focus on avoiding burns and injuries to the hands and face, there isn't as much written about hearing damage - the invisible injury. Sitting very close to exploding fireworks can cause immediate, sudden, and permanent hearing loss. It can also cause more modest ear inner damage that may not be detected until later in life and not even associated with the fireworks.
Noise from exploding fireworks can top 155 decibels. That's similar to (actually higher than) a jet engine taking off (150 decibels) or a gunshot (140 decibels) - and enough to rupture an ear drum. While no one would ever consider working around jets or firing a gun at the shooting range without the very best in hearing protection, most people don't think the same way about fireworks. They should.
The audiologists at Silver State Hearing & Balance in Reno NV want everyone to safeguard their hearing if they plan to enjoy fireworks on the Fourth of July. They recommend:
1) Be a spectator, not a participant. Leave the fireworks to the experts. Attend a professional fireworks show rather than shooting them off in your own neighborhood.
2) Sit at a safe distance. For a firework exploding at 155 decibels that means 50 to 60 feet away for adults and 150 feet away for children.
3) Leave infants at home. Infants should not be exposed to fireworks because they generally experience the greatest amount of sound pressure. The pressure wave generated by the fireworks hitting their outer ear squeezes through a very narrow ear canal resulting in much higher internal pressures than adults experience.
4) Wear ear plugs. Look for the highest Noise Reduction Rating (NRR) available and make sure that they fit snugly inside the outer ear canal. Wear them for the entire show.
Silver State Hearing & Balance wishes everyone a safe and happy July 4th. Anyone who does experience a change in hearing after attending a fireworks show is encouraged to call an audiologist for a professional hearing test.
About Silver State Hearing & Balance, Inc.
Silver State Hearing & Balance, Inc. has provided hearing aids in Reno, Nevada and its surrounding communities for several years. The company offers a full range of diagnostic and preventative hearing healthcare professional services, including hearing aid screening, evaluations, hearing aids sales and rehabilitative and preventative counseling. Silver State Hearing & Balance, Inc. is dedicated to keeping abreast of the latest improvements in technological advancements in the hearing industry and are committed to offering the most current options to its patients. Choosing a hearing professional is one of the most important decisions a consumer will ever make and the personal relationships they will develop with the staff at Silver State Hearing & Balance will continue long after the initial appointment.
Contact:
Dr. Christine Schellin
http://www.silverstatehearing.com
Silver State Hearing & Balance, Inc.
3735 Lakeside Drive, Suite A
Reno, NV 89509
(775) 473-9378