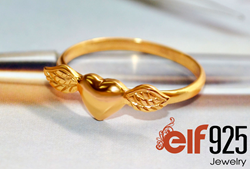 The company has been in business for nearly 10 years with a loyal and always greater international customer base.
(PRWEB) February 07, 2014
Online jewelry retailers and wholesalers are increasingly being accepted as part of the wider jewelry industry. According to IBIS World - a leading market research firm - the industry is now worth over $9.8 billion in the U.S. alone. Despite the global financial crises, online jewelry wholesalers experienced growth of 9.8% in the period between 2008 to 2013, which is very impressive knowing that many countries have reported a decline in disposable income during the same time period.
This is evident in the number of major online retailers now exhibiting their wares at industry trade shows. The growth of online jewelry retailers has been a little bit slower than other industries (mostly because of trust issues) but as it becomes more commonplace and word of mouth spreads, people are starting to get over their fear of buying jewelry online. Many brick-and-mortar stores have also started to increase their online presence to capitalize on the trend.
From the 5th of March, 2014, online wholesaler ELF925 will be exhibiting their products at the Hong Kong International Jewelry Show. You can find their booth # 5F - G33, 35/5F - F34, 36 at Hong Kong Convention and Exhibition Centre. It's by no means the first time that a large, exclusively online wholesaler in the region has exhibited their products at a prestigious trade show, but it's a hallmark of a growing trend. There was a time when online retailers were seen as "upstarts". Yet like DVD sales, toys and computer games, transactions are increasingly taking place over the internet and companies like ELF925 are increasing their market share as a result.
ELF925 is a fast-growing. Thai-based, e-commerce wholesaler specializing in light-weight, sterling silver jewelry. Their trendy jewelry is often combined with cubic zirconia, semi-precious accents and crystals. They are a member of the Thai Gem and Jewellers Association through their parent company (the Bangkok-located E.L.F. Co. Ltd, also a Thai Niello and SilverWare Association member. They will join almost 4,000 other retailers and wholesalers in introducing their newest items to over 40,000 trade buyers and journalists at the Hong Kong International Jewelry Show.
The show itself will take place between the 5th and 9th of March 2014, and is one of the most prestigious jewelry shows in the world. The show is only accessible to industry insiders as trade credentials are needed to get in Visitors to the show must be over 18, present a valid passport or Hong Kong ID card and pay HK$100 per person for entry to the Hong Kong Convention and Exhibition Centre.
As well as ELF925's sterling silver jewelry, trade buyers can expect to see: fine watches and clocks, jewelry containing precious metals and stones, antique jewelry and much more, exhibited by some of the world's best-known jewelry retailers. There's also the concurrent Hong Kong International Diamond, Gem & Pearl Show for people interested in rare gems. This event will run from the 5th until the 9th of March 2014.
Attending industry standard trade shows such as these, online retailers are starting to gain the prestige they deserve. With every event the attend, they are exhibiting next to jewelers who are hundreds of years old and household names throughout the world.
IBIS World also expects the trend of online sales to continue. There's indications that the shift to online sales may have been suppressed by the global financial crises and that when the global economy recovers — and people find they have more disposable income — the trend will pick up pace. We may soon see an industry where all of the largest retailers exhibiting at trade shows are based online.
Figures are not yet available for 2013, but IBIS World states that with disposable income rebounding strongly in 2013, revenue for the industry has also increased by 3.8%. The amount of profit the industry has made has followed a similar trend, although occasionally more volatile.
The IBIS World report states that people are still wary of buying high-end jewelry items online, so profit margins are lower for online retailers. But if we look at the watch industry as a guide, the same could have been said in the past. Now many high-end luxury watches are sold online. Fine art, wines and other luxury products are becoming increasingly more commonplace online as well. It makes sense that online jewelers would look to increase their profit margins by selling higher-priced items.
So the future is looking very bright for those jewelers who sell their goods online. It may not be long at all before we're mentioning ELF925 in the same breathe as we mention Goldsmiths and others. Continuing to exhibit at events like the Hong Kong International Jewelry Show can only help speed up their rise to prominence.