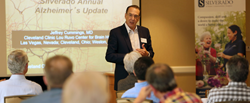 NEWPORT BEACH, CA (PRWEB) October 19, 2015
More than 40 medical experts this weekend gathered for a three-day conference to discuss the latest brain health research related to neurodegenerative disorders such as Alzheimer's disease, Parkinson's disease and Lewy-body dementia.
From award-winning physicians to some of the nation's top researchers, these experts add tremendous value to society's understanding of brain health and caring for those with memory loss. In addition to their practice or area of focus, each serves as a medical director for a Silverado memory care community or hospice office. Silverado – with 19 years of dedicated expertise in memory care – hosts the annual event.
"The collective knowledge of this group has led to numerous advancements in caring for people with memory loss and those in need of end-of-life care, giving Silverado some of the best clinical outcomes in the nation," shares Silverado President, Chairman and CEO Loren Shook. "It's exciting for us to bring together these top minds, because only through the exchange of ideas can we gain a better understanding of brain health that ultimately improves the quality of life for our residents and patients."
Shook founded Silverado with a vision to change the way the world cares for those with memory impairment, and this annual conference for leaders in neuroscience and end-of-life care is vital to developing innovative care that improves lives.
Highlights from this year's event included:

An Alzheimer's Treatment and Research update from world-renowned neurologist and researcher Dr. Jeffrey Cummings, who serves as Director of the Cleveland Clinic Lou Ruvo Center for Brain Health;
A discussion on Neurorehabilitation – presented by Neuroscientist Michael Merzenich, who developed the Brain HQ iPad app that is changing the way countless people exercise their brain;
And a talk on Evidence-based Practice in Brain Health led by Silverado's Senior Vice President of Clinical Services, Kim Butrum, with a focus on Nexus – a new program based on research suggesting that it may be possible to delay the onset of dementia and slow its progression.
Throughout the event, breakout sessions of smaller groups also enabled the experts to engage in candid conversation to inspire problem-solving and best-practice sharing.
###
About Silverado
Silverado was founded in 1996 with the goal of enriching lives of those with memory loss by changing how the world cares for people with cognitive decline. Establishing this mindset as the foundation allows Silverado – and its associates – to leave behind previous misconceptions and operate in a way that provides clients, residents and patients with utmost dignity, freedom, respect and quality of life. Silverado has grown to become a nationally recognized provider of home care, memory care assisted living and hospice services. With more than 45 locations across Arizona, California, Illinois, Texas, Utah and Wisconsin – the company delivers world-class care and unmatched service. To learn more, visit silveradocare.com or call (866) 522-8125.
Contact:
David Gill
(714) 624-2550
dgill(at)silveradocare(dot)com