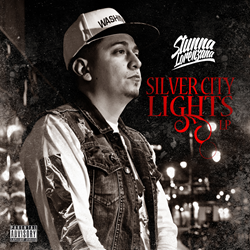 Silver Spring, MD (PRWEB) April 24, 2014
As Stunna's 7th music project, Silver City Lights is a tribute to his hometown in Maryland. Stunna has grown to love this special place where the Latino community welcomed him as a child and is proud of his accomplishments as an up and coming hip hop artist. The release of an album in honor of Silver Spring, Maryland, made perfect sense to Stunna in his quest to tell the world about this remarkable American city.
On April 24, 2014 at 4:24 pm EDT, Silver City Lights will be released as a FREE full-length LP/album, with 14 music tracks that chronicle Stunna Lorenzana's journey as a hip hop artist. Inspiration for the album grew as Stunna reflected on countless childhood adventures and memories in this remarkable, small city. Friends and family added meaning to every year as Stunna discovered his passion for music and expressed his talent in various ways. Evolution in the music industry converged with Stunna's passion for rhythm and freedom of expression through hip hop.
Stunna Lorenzana has released previous projects under these titles: Rest in Beats, Rest in Beats 2, Rest in Beats 3, Skys the Limit EP, Still Haven't Made It Volume 1 and Still Haven't Made It Volume 2. His love for music is revealed through carefully selected tracks on each project. Stories can be told through lyrics, melodies and rhythms that cannot be expressed in the spoken language. Stunna strives to maintain his personal style while exploring new sounds and methods to record exceptional music for listeners. Fresh rhythms and beats jump through the speakers in ways that music lovers notice with each release. Fans have been waiting for this album since each previous project has offered surprises that revealed the extent of Stunna's talents.
Up and coming artists participated with Stunna Lorenzana on the musical aspects of Silver City Lights. Fito Corleone, Michelle McHugh and E4RMDACITY enhanced the final album through their special interpretations of each score. These remarkably talented artists were instrumental in challenging Stunna to include his unique ideas that would intrigue anyone who heard the album. In addition, the remarkable production team included Joey Sosa, Teddy Beats, Mig L Beatz, Vybe Beatz, Mr. Forbes, June G. and Joey Cutless. Details of the project were handled through the perfect mix of experience and new talent. Without any one member of this team, the result would not have been the same.
Stunna Lorenzana recognizes the importance of the two people who made it possible for him to be born in the land of the free. As parents from Guatemala and El Salvador, they recognized the endless dreams that could be realized as their son displayed a unique love for music. Young Stunna demonstrated his profound interest in music as he listened to various musical styles from his earliest memories. Adapting familiar songs into his style allowed him to learn the finer points of composition and production. Growing up with musical dreams meant venturing into places where other people would notice Stunna's talent and musical passion.
Stunna was born in Washington, D.C. and grew up in Maryland. The music scene of his choosing evolved out of a Latino community that embraces young members who reach for the stars. Stunna has a desire to create a genuine reflection of his life in the music on his album titled: Silver City Lights. Taking other people along for the ride is one of the joys of the journey. The entire Empire Lifestyle team participated in every phase of composing, improvising and producing this memorable album.
This independent album is far from a solo effort from Stunna Lorenzana. All 14 tracks on Silver City Lights required collaboration with musicians, vocalists and producers who added to the final product. Stunna has a heartfelt desire to express his love for the city that afforded him countless opportunities to become an artist in his own right. Countless people behind the scenes made each step in the journey more meaningful.
Silver City Lights is the project that offers an opportunity to express Stunna Lorenzana's appreciation to people from his past. Music tracks include "Empire Livin'," "Came Up," "Hold Me Down" and the title cut plus 10 other new songs. Each producer brought a unique perspective to the final tracks that would be included on the album. Progress through each phase was possible because of the remarkably talented team of cooperative people.
For more information about the Silver City Lights LP FREE album, please send an email to Press(at)StunnaLorenzana(dot)com!
All questions about Stunna Lorenzana should be directed to the Empire Lifestyle team. Watch for new albums in the near future.