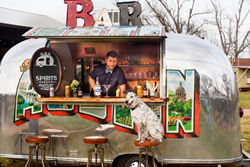 It's A Party On Wheels!
Austin, Texas (PRWEB) June 09, 2017
Right on the heels of being hired for Tostito's brand activation at Super Bowl LI, the Silvercloud Trailer Events® mobile bar service has been featured in the June 2017 issue of Rachael Ray Every Day magazine.
In the story, 'It's Cocktail (Truck) Hour Somewhere," Silvercloud Trailer Events® is one of the featured mobile bar services that are "this season's answer to the food truck." Our signature cocktail, a jalepeno-spiked margarita, is also mentioned. Capitalizing on the food truck craze sweeping the nation, our mobile bar trailers are popular throughout the US for weddings as cocktail bars and as unique food or beverage serving bars for corporate events and brand activations.
Silvercloud Trailer Events® is a super fun, national entertainment franchise brand serving the $72 billion US Weddings & Events industry. We offer mobile bars and photo booth rentals in vintage-style trailers for brand activations, corporate events and weddings.