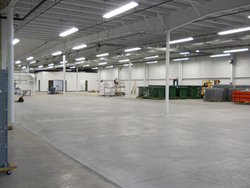 Simco-Ion is living up to its name as the industry's leader
Hatfield, PA (PRWEB) May 21, 2014
Simco-Ion is pleased to announce that it has completed a building expansion at its facility on North Penn Road in Hatfield, PA. Simco-Ion is the leading manufacturer of static control and web cleaning equipment for Industrial and Electronic markets. The company's building expansion further proves that Simco-Ion is living up to its name as the industry's leader.
As the company continues to lead the way in developing new and innovative solutions in static control and web cleaning, the increasing demand for products creates the need for more room at Hatfield. The expansion will encompass 15,000 square feet of new manufacturing floor space to accommodate the company's growth.
The new building expansion will increase the total space to over 75,000 square feet. Use of the new space will include office manufacturing, storage, testing, and more. Additionally, the expansion signifies Simco-Ion's continued growth in the market, as it continues to provide new jobs and opportunities for its community.
Simco-Ion
(215) 822-6401
customerservice (at) simco-ion (dot) com
http://www.simco-ion.com
About Simco-Ion:
Simco-Ion is the worldwide leader in static control technology, offering custom solutions for a wide range of industrial applications. With a focus on continuous improvement, Simco-Ion is dedicated to developing advanced products designed to improve productivity through enhanced system performance and operation. Worldwide sales support provides unsurpassed customer service and application analysis that continues to drive product excellence. Simco-Ion is part of Illinois Tool Works Company, a diversified manufacturer of highly engineered components, industrial systems and consumables with annual revenues of $14.4 billion. ITW consists of hundreds of business units in 56 countries and employs some 51,000 people.