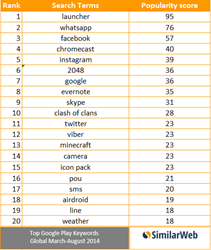 Today, with our new products, our vision to truly measure the entire web is a reality
London, UK (PRWEB) September 23, 2014
SimilarWeb becomes the first online competitive intelligence platform to offer insights on internet traffic across desktop websites, mobile websites and mobile apps.
SimilarWeb, the competitive analytics start-up that launched in 2013, has quickly grown to be one of largest data providers in the industry with millions of visitors to SimilarWeb.com each month. Leading publishers like TechCrunch, the Wall Street Journal, Bloomberg and Reuters use SimilarWeb as a resource for data insights.
"We live in a multi-device world where more often than not we are using apps, browsing websites and consuming media from different devices frequently at the same time. Only measuring and considering desktop website analytics creates a big blind spot about actual web usage. Today, with our new products, our vision to truly measure the entire web is a reality," said Or Offer, CEO of SimilarWeb.
With the new additions, SimilarWeb PRO shows the traffic and engagement breakdown between desktop and mobile surfers. SimilarWeb PRO's App Analytics introduces several new data points never before available in the world of app analytics.
Exclusive Insights Include:

Top keywords driving people to apps, based on real search queries
Most popular keywords on the Google Play Store
Breakdowns of the channels people use to discover apps in the app store
Breakdowns of the paths taken inside the app stores to discover apps
SimilarWeb's World of Apps
Using data found in SimillarWeb's App Analytics we mapped out the world of apps and app stores.
Top insights:

In the U.S. only 2 of the top 100 grossing apps in the Google Play Store are not games. Pandora Internet Radio and OkCupid Dating.
MineCraft is the only app in the top 100 grossing U.S. apps in the Google Play Store that is not free to download.
The #1 Keyword searched in the Google Play Store is Launcher
The most searched for game in the Google Play Store is 2048
For the keyword "Candy" in the Google Play Store, Candy Crush Saga grabbed only 40.7% of the traffic, the second most went to Candy Frenzy with 11.7%
Clash of Clans is the Top Grossing App in over a dozen different countries including the U.S., U.K., and Russia
About SimilarWeb
SimilarWeb is the leading international online competitive intelligence provider. SimilarWeb PRO is the platform which unlocks traffic statistics for any website, mobile website or app, and is the only platform to offer global data at country-specific levels. SimilarWeb PRO data is also available via API.
SimilarWeb's proprietary classification algorithms create unmatched industry benchmarks and insights into competitive marketing strategies. SimilarWeb's wealth of data combined with intuitive discovery tools uncover the pulse of the internet; that's why SimilarWeb insights are often used by leading publications, including Bloomberg Businessweek, Wall St. Journal, TechCrunch and the Guardian.
SimilarWeb is used every day to help businesses, publishers, marketers and analysts benchmark performance and find successful marketing strategies to drive more traffic and opportunities.
Companies that use SimilarWeb include Travelocity, Google, PlayBuzz, KPMG, eBay and UBS.
– # # # –