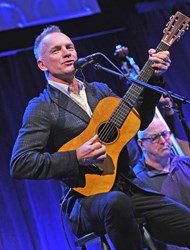 (PRWEB) November 09, 2013
For Paul Simon and Sting fans out there, get excited. The two stars have announced that they will begin touring together in 2014.
The 2014 North American tour between the two will hit 18 cities in February and March. The tour will be called, "Paul Simon & Sting: On Stage Together." Simple and to the point, the tour will begin on February 8th at Houston's Toyota Center, and will end on March 16th at Orlando's Amway Center. Their trip around the US will also feature a date at Madison Square Garden in New York City on March 4th.
The two will be signing solos of their own during the shows, as well as some duets. Simon and Sting have previously performed together, most recently in May of this year for the Robin Hood Foundation. They performed acoustic versions of the Simon and Garfunkel song, "The Boxer", as well as Sting's "Fields of Gold." After having an incredible experience singing together, the two knew it would be a great opportunity to tour together and show the rest of their fans how magical their duet can be.
The following is a short list of the first few stops of this awesome new tour:
02/08 – Houston, TX @ Toyota Center
02/09 – Dallas, TX @ American Airlines Center
02/11 – Denver, CO @ Pepsi Center
02/15 – Los Angeles, CA @ The Forum
02/17 – San Jose, CA @ SAP Center at San Jose
02/19 – Seattle, WA @ Key Arena
02/20 – Vancouver, BC @ Rogers Arena
02/23 – St. Paul, MN @ Xcel Energy Center
02/25 – Chicago, IL @ United Center
Tickets to the Paul Simon and Sting tour can be easily purchased at Ticket Monster. Presale tickets go on sale Wednesday, November 6th, while general sales tickets will be available to the public on Tuesday, November 12th. Ticket Monster is the number one stop to find tickets to all the top concerts. When they are sold out on other sites, Ticket Monster will come to the rescue. Not only does Ticket Monster always have tickets for sale, but they are offered at the lowest prices on the web. The Paul Simon & Sting: On Stage Together is just one examples of the many concerts Ticket Monster provides for its customers. Visit Ticketmonster.com for more details, or call 1-866-217-4777.