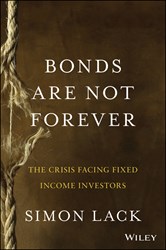 Lack provides investors with a coherent framework for understanding the future of the fixed income markets and, more importantly, answers the question: 'Where should I invest tomorrow?'
Hoboken, NJ (PRWEB) August 28, 2013
In his international bestseller "The Hedge Fund Mirage," Simon Lack blew the lid off of the hedge fund industry, revealing why, despite their grandiose claims of record-breaking returns, the industry's chief beneficiaries have been hedge fund managers themselves. Now, in his second book, Lack shifts his focus to the fixed income markets to explain why investing in bonds is hazardous to your financial health.
"Bonds Are Not Forever: The Crisis Facing Fixed Income Investors" (Wiley; August 2013; Hardcover & e-book; $40; ISBN: 978-1-118-65953-3) interweaves compelling, often amusing anecdotes from Lack's distinguished thirty-year-career as a professional investor with hard economic data showing how we got to the point where bonds—long considered a reliable source of portfolio income—should be handled with extreme caution. Lack also provides investors with a coherent framework for understanding the future of the fixed income markets and, more importantly, answers the question: "Where should I invest tomorrow?"
Lack explains how the steady decline in interest rates from their peak in the 1980s and the concurrent drop in inflation, together spurred a dramatic growth in borrowing among both governments and individuals. Clinton-era policies drove home ownership to historic levels leading to the real estate boom, and thus the bursting of the real estate bubble in 2007-2008 led to massive borrowing by governments as they attempted to offset a sharp fall in economic activity. At the same time, the financial services sector exploded with growth as banks, brokers, and Wall Street—encouraged by the loosening of financial regulations—claimed an unprecedented portion of global GNP. Lack describes how an industry that was meant to provide the capital needed to drive productivity and economic growth became disconnected from Main Street, and the grave economic, social, and political consequences of that disconnect.
In "Bonds Are Not Forever," Lack shows how these events—increased debt and an unwieldy financial sector—dramatically changed the game for savers, engendering an environment hostile to bond investors. And he provides practical solutions for avoiding the risk of falling bond markets and guaranteed negative real returns on savings resulting from a massive transfer of wealth to those who have borrowed too much.
Simon Lack has worked as a trader and hedge fund investor for more than 30 years. Following 23 years with J.P. Morgan, he founded SL Advisors, LLC, a Registered Investment Advisor, in 2009. Lack is the author of the 2011 book THE HEDGE FUND MIRAGE and makes regular appearances on cable business shows as an expert on hedge funds and investing topics. He is a CFA charterholder.
Offering a uniquely intimate, yet analytically thorough look at the coming fixed income crisis, "Bonds Are Not Forever" is an important book for anyone interested in investing.