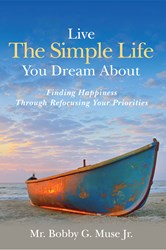 When we focus on our priorities, we simplify our lives.
Louisville, KY (PRWEB) February 14, 2014
Life is complicated, but doesn't have to be. According to author Bobby G. Muse, Jr. of Simple Life Publishing, in his new book Live the Simple Life You Dream About, instead of concentrating on the things that are important to us, our lives sometimes lose focus and spiral out of control like a juggler at the circus trying to keep multiple balls in the air. In his new book, he helps readers identify their priorities, redirect their resources to support the things that are important to them, and eliminate the clutter in their lives that sometimes gets in the way.
"It's time to slow our lives down, let a few balls drop from our attention, and refocus our lives to what's really important," said Mr. Muse. "Real happiness comes through surrounding ourselves with the people, activities, and things that give our lives meaning. When we focus on our priorities, we simplify our lives."
Using personal stories to illustrate his struggles to find satisfaction in his life, he leads readers through the process of finding happiness and breaks down simplifying their lives into five steps. The first step focuses on defining real needs and helps eliminate the outside influences that sometimes sway our decisions. Attempting to maintain anything above what a person needs to be happy, not only distracts them from their priorities, but wastes their limited resources.
Clearly defining priorities is the next step. Focusing on a person's priorities – the things that bring meaning to their lives – is the surest way to find happiness and simplify their lives.
The third step redirects financial resources to support identified priorities. If a person's priorities are not adequately supported with their monetary resources, they won't be priorities for long.
Just as important as a solid money-management strategy, in step four, a plan is established to manage available time more effectively. Time is a person's most valuable resource and, by keeping their time focused on their priorities, keeps them connected to the "things" that provide satisfaction and happiness to their lives.
The final step focuses on improving one's quality of life by decluttering their lives of the unnecessary relationships, commitments, and stuff that distract them from their priorities. Uncontrolled clutter not only complicates a person's life, but makes true happiness almost impossible to attain.
Live the Simple Life You Dream About: Finding Happiness Through Refocusing Your Priorities is Mr. Muse's second book that focuses on helping people simplify their lives. The Building Blocks of Success, his other book, breaks down the process of being successful into its seven fundamental elements. Both books can be purchased at Amazon and other booksellers. Mr. Muse can also be followed through his blog at http://www.SimpleLifePublishing.com.