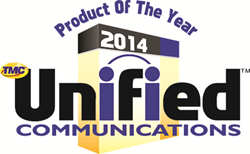 Adding integrated phone service and conferencing to Google Apps for business helps SMB's and enterprise customers streamline their overall communications strategy and speaks to the growing demand for a truly unified communications strategy
Dana Point, CA (PRWEB) June 26, 2014
SimpleSignal, Inc., the leading cloud-based Unified Communications and Collaboration provider for business, today announced that TMC, a global integrated media company, has named SimpleSignal's Google Apps Voice Integration as a recipient of 2014 Unified Communications Product of the Year Award.
Adding integrated phone service and conferencing to Google Apps for business helps SMB's and enterprise customers streamline their overall communications strategy and speaks to the growing demand for a truly unified communications strategy throughout the software a business uses every day.
SimpleSignal's Google Apps Voice Integration has seen a number of improvements since its launch in 2013. Integrated with SimpleSignal's hosted PBX and most SaaS business application software such as Salesforce and Clio, this application gives users voice call and conferencing management as well as reporting and presence features.
For the full press release, please visit: http://newsroom.simplesignal.com/google-apps-voice-integration-2014-product-year/.