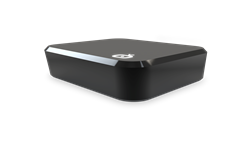 Together, we will deliver an exceptional streaming DVR solution for consumers who are looking to combine the best of broadcast content with OTT streaming.
IFA-Berlin, Germany (PRWEB) September 05, 2013
Simple.TV today announced a manufacturing and distribution partnership with Silicondust USA Inc. to build and distribute their next generation streaming DVR device and bring broadcast, over-the-air (OTA) television to connected devices everywhere. The two companies also announced plans for international distribution into Europe.
The award-winning Simple.TV experience bridges the gap between over-the-top streaming video and broadcast TV by making live and recorded broadcast programming available on any connected device. Leveraging Silicondust's proven hardware design, and powered by Zenverge's ZN 200 chipset and TransAll™ transcoding engine, the collaboration will deliver the ideal platform for powering the next generation OTA and OTT digital media experience. The partnership between Simple.TV and Silicondust will also speed time to market for new capabilities, features, and services for Simple.TV's "TV everywhere" service, and will provide support for international broadcast standards such as DVB-T2, DVB-C, DVB-S2, and ISDB-T. The new device will be available in the United States in late 2013; international markets will be introduced in early 2014.
Also at IFA, Simple.TV offered an early look at its Version 2.0 user experience featuring personalized content discovery and varied playback experiences powered by Simple.TV's cloud services. The Version 2.0 platform will significantly accelerate new feature and performance updates as well as deliver new mobile experiences on iOS, Android, Roku, and HTML-5 for all existing Simple.TV users.
Simple.TV is at IFA in hall 7.2c, booth 101-12 for the entirety of the event.
"We're extremely pleased to be partnering with Silicondust, the leaders in networked TV tuners," said Mark Ely, CEO of Simple.TV. "Their exceptional hardware design, manufacturing, and distribution capabilities are a perfect match with our TV everywhere services and applications. Together, we will deliver an exceptional streaming DVR solution for consumers who are looking to combine the best of broadcast content with OTT streaming."
"Our collaboration with Simple.TV will help further our reach into the over-the-top streaming TV space," said Theodore Head, CEO, Silicondust. "Simple TV's innovative cloud DVR platform and applications for TV everywhere is an ideal complement to our HDHomeRun devices that currently stream content within the home network to many smart, connected devices such as Smart TVs, Game Consoles, and mobile devices. Simple.TV takes these streams beyond the home."
About Simple.TV
Founded in 2011 by veterans of the digital media business, Simple.TV is backed by Accanto Partners and New World Ventures. Simple.TV is on a mission to bring great broadcast television to connected devices everywhere. For more information about Simple.TV, visit http://www.simple.tv/.
About Silicondust USA
Silicondust USA, Inc. was formed in early 2007 as the innovators of the HDHomeRun® line of Home Network Connected TV tuners. Silicondust products include devices with global compatibility for over-the-air antenna [ATSC / DVB-T / DVB-T2 / ISDB (unencrypted)] broadcast signals, and digital cable [QAM (including conditional access CableCARD™ / DVB-C (unencrypted)]. Silicondust offers a variety of models for Consumer, Industrial, and Commercial use. HDHomeRun® devices include Certified OCUR and DLNA Certified DMS products supporting DTCP-IP protected content streaming within your home network. For more information about Silicondust, visit http://www.HDHomeRun.com/.