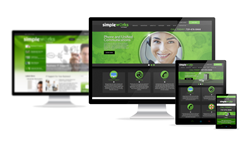 "We needed a revamped web presence to better represent the full range of services we offer and to give us even better contact with our customers." - Josh Brambila, General Manager at Simpleworks
Colorado Springs, CO (PRWEB) July 23, 2014
The new site also features live chat, which will allow inquiring visitors to receive additional information about the IT solutions available instantly. The existing customers now have a client portal to manage their accounts, submit tickets, etc.
This redesign became necessary because of the tremendous growth they've experienced over the last several years. "We simply outgrew our last site," said Josh Brambila, General Manager at Simpleworks. "We needed a revamped web presence to better represent the full range of services we offer and to give us even better contact with our customers. We also wanted a fresh look and feel for the site to reflect the professionalism, expertise, and progress that defines what we do."
Thanks to Power Plant Media, a web design company in Colorado Springs, the new site meets all of their needs. The knowledgeable and talented design team at Power Plant exceeded Simpleworks' expectations. They are now confident that visitors, too, will appreciate the attractive design and new features which will help their IT team serve them even better.
Simpleworks' Comprehensive IT Solutions
Simpleworks has certified, experienced technicians who can install, set up, manage, and troubleshoot any IT service needed by a business or individual. Thanks to their loyal customer base, they have now expanded their services to include Voice over IP (VoIP) etc., in addition to the many other solutions they offer:

Network management
Business Internet
Phone and unified communications
Backups and disaster recovery
Computer support and repair
Virtualization and cloud solutions
Managed email services
Security and compliance
Datacenter services
Server support
Desktop support
… and more! Check out the new website for more information about each of these services.
About Simpleworks
Simpleworks is the leading IT support solution for small and medium-sized businesses and residential customers in Southern Colorado. Regardless of the IT needs—whether simple or complicated, large or small—their specialists can build and manage a business' entire network. While they do have a brick-and-mortar location, there's no need for a customer to bring their equipment to them. Simpleworks' computer support team will come to anoyone's home or business, and if an emergency occurs, they are on call, ready to help.