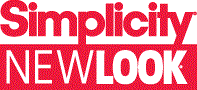 (PRWEB) September 04, 2013
Wendy Gardiner, sewing expert at Simplicity New Look, recently gave tips to anybody hoping to learn to sew in a feature for Female First.
Her advice was aimed at new parents turning their hand to homemade clothes for their baby or toddler, and Simplicity dress patterns were listed as the ideal place to start.

Simplicity A-line dress patterns (girls) and elasticated trousers (boys) are good ways to start sewing.
Sewing patterns are sized by age, but each child is unique, so allow for adjustments.
Stretchy fabrics offer some much-needed give for activity times.
Clothes for young children need to be able to withstand the rigours of an active lifestyle, and Wendy had several tips on how to do this.
First, using a substantial cloth - such as heavy cotton - should help the garment to withstand the wear and tear of daily use, while elasticated materials and waistbands combine comfort with a snug fit.
Second, reinforce the garment where necessary; thicker patches can be sewn on to the inside of trousers for extra strength, without being visible from outside.
Finally, give some thought to aesthetics; make several different garments, such as shirt, shorts and skirt, in the same overall theme or fabric, and you can mix and match depending on your child's mood, the weather, or the event being attended.
Wendy Gardiner from Simplicity New Look, said: "Children grow fast, and by sewing your own clothes, you can make sure you are ready for their next growth spurt.
"For example, a dress or strappy top can be given straps that are longer than is currently needed, allowing it to be re-sized easily later to fit your growing child."
Simplicity New Look's range includes sets of sewing patterns for young children, such as New Look 6473, a pack aimed at children aged anywhere between six months and four years old.
This incorporates shorts and trousers that could be made for babies of either sex, along with a pretty top, and a dress pattern ideal for baby girls to wear.
About Simplicity
Simplicity is a global brand that has designed, produced and sold sewing patterns since 1927. Headquartered in New York City in the US, its UK offices have been in Stockport since 2002 and it operates under the Simplicity New Look brand in the UK.