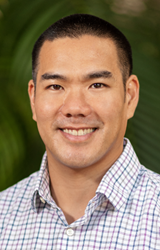 Honolulu, HI (PRWEB) June 26, 2014
simplicityHR by ALTRES, Hawaii's most experienced provider of outsourced payroll and human resources services, has announced the hiring of Brandon Suyeoka as Marketing Brand Manager.
In his new role as the Marketing Brand Manager, Suyeoka will be responsible for the planning, and executing of the company's marketing communications, externally and internally. Together with the Marketing Director, he will develop and inject new ideas into marketing programs with the goal of building efficiency and growing the business.
Suyeoka is an advertising and marketing professional with over 15 years of experience locally and nationally. He has worked with a number of brands to create strategies for them to increase their awareness and better engage their customers. Previously, he was a Senior Account Executive & Social Media Director for Hendrix Miyasaki Shin Advertising and a Marketing Product Manager for Eidos Interactive in San Francisco. Suyeoka has a Bachelor's degree in Marketing from the Charles Lundquist College of Business at the University of Oregon. At the 2013 Technology News Bytes Social Media Summit, he was named one of the Top 5 Social Media Influencers in Hawaii.
simplicityHR by ALTRES is Hawaii's most experienced provider of outsourced payroll and human resources services. Serving as the HR department for 1,000 companies throughout the state, simplicityHR helps businesses succeed by streamlining payroll, health and workers' compensation coverage, employee benefits, compliance, and training. For more information, visit simplicityHR.com.
Founded in 1969, ALTRES is a second-generation, family-owned business and Hawaii's largest human resources organization. With 165 employees in six office locations, the ALTRES family of companies includes ALTRES Staffing, simplicityHR by ALTRES, and KilaKila Employer Services.