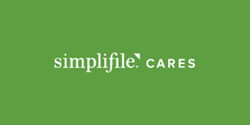 ...we wanted to find a way to give back to the local communities where our nationwide customer base lives and works. Our philanthropic vision aligned perfectly with Habitat's mission 'to help bring people together to build homes, communities, and hope.'
Provo, Utah (PRWEB) June 29, 2015
Simplifile has unveiled its new Simplifile Cares program, giving back to local, nonprofit Habitat for Humanity affiliates at industry events attended coast to coast.
Since its first Simplifile Cares event in April, Simplifile has donated more than $5,700 to local Habitat for Humanity chapters in nine different states, including Washington, Utah, Kansas, Missouri, Wisconsin, Pennsylvania, New Jersey, Florida, and Texas.
"Even though Simplifile is headquartered in Utah, we wanted to find a way to give back to the local communities where our nationwide customer base lives and works. Our philanthropic vision aligned perfectly with Habitat's mission 'to help bring people together to build homes, communities, and hope,'" said Paul Clifford, president of Simplifile. "We've received nothing but positive feedback about Simplifile Cares, and it's rewarding to see the contributions go directly to helping provide homes for families in need."
Simplifile also makes its donations on behalf of the organization hosting the event to the local Habitat affiliate where the event takes place.
"We attend hundreds of real estate, title, mortgage, and county association events throughout the country every year. We wanted to do something different, but more importantly, we wanted to do something that made a difference and could positively impact the surrounding community in some way," said Vicki DiPasquale, vice president of sales at Simplifile.
Simplifile has also partnered with Habitat for Humanity of Utah County to sponsor and help build a home for a local family in Orem, Utah. Employees have volunteered to help build the home for a single mother who was shot and paralyzed from her waist down, and then lost her leg due to an infection.
"Habitat for Humanity of Utah County is excited to partner with Simplifile and the Simplifile Cares program and looks forward to working with the company and its employees as we strive to provide safe and affordable housing for families in need in our community," said Kena Jo Mathews, executive director at Habitat for Humanity of Utah County. "We truly appreciate the company's generosity and service."
To learn more about Habitat for Humanity or to find your local Habitat chapter, visit http://www.habitat.org.
For more information about Simplifile, visit simplifile.com or call 800-460-5657.
About Simplifile
Simplifile is a rapidly-growing, online service that connects lenders, settlement agents, and counties. Since 2000, Simplifile has grown the nation's largest e-recording network, which has transformed the title and real estate industry. From e-recording to document sharing, collaboration, and post closing, Simplifile offers an array of services in one place to help users securely record, share, and track documents, data, and fees with ease. To learn more, visit simplifile.com or call 800-460-5657.