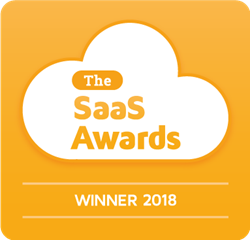 "We are thrilled to be acknowledged as a winner of this award. We put a tremendous focus on usability and design."
REDWOOD CITY, Calif. (PRWEB) September 04, 2018
Simpplr, the modern employee intranet built to connect and engage employees, is a winner in the 2018 SaaS Awards Program in the category Best UX, UI, & Design in a SaaS Product.
"We are thrilled to be acknowledged as a winner of this award," said Dhiraj Sharma, Simpplr founder and CEO. "We put a tremendous focus on usability and design. Our goal is to make software that users love and intuitively know how to use."
User experience is critically important for any software that is used across the entire employee base. Simpplr's modern employee intranet helps organizations focus on what matters, is easy to manage through business changes, and drives engaged alignment across the organization. The technology provides a beautiful, uncluttered place where employees can stay informed. Unlike outdated intranets that lack purpose, focus, guidance, and adoption, Simpplr focuses on an engaging and personalized user experience. It offers distributed point-and-click administration, integration with today's cloud-based enterprise applications, and AI technology that helps employees get their work done faster.
SaaS Awards organizer Larry Johnson said: "We are thrilled to announce the final winners from another very impressive shortlist. With so many potential winners on the shortlist, we hope our choices have proven thought-provoking, offering a real showcase of the diversity of today's SaaS offerings. This year's winners really do represent the entire globe, with extra non-US categories helping to showcase this innovation, from established organizations serving many customers to disruptive start-ups catering to a niche."
About Simpplr
Simpplr is the modern employee intranet that helps companies connect, align, and engage their entire workforce across the enterprise. Trusted by leading brands, including Workday, Splunk, DocuSign, Eurostar, and Columbia University, we help our customers achieve measurable productivity gains, increased employee engagement and retention, and accelerated business performance.
Simpplr is headquartered in Redwood City, CA, with offices in the UK and India, and is backed by Norwest Venture Partners and Salesforce Ventures. Visit simpplr.com and join the conversation on Twitter @simpplr.