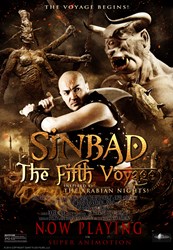 We thought it would be fun to produce Sinbad The Fifth Voyage retro style
Hollywood, CA (PRWEB) February 10, 2014
Giant Flick Films LLC proudly announces 'Sinbad The Fifth Voyage' opening in Regal Cinemas and AMC theaters February 7th, 2014.
The exciting live action film (currently in theaters) is based on the Middle Eastern fairy tale adventures of Sinbad the sailor of 'The Arabian Nights' and is narrated by Sir Patrick Stewart (Star Trek, Dune, X-Men); it has also opened up to great reviews.
Sinbad The Fifth Voyage, which features creatures such as the Cyclops, Goliath Crab, Giant Hornet, The Rok Bird, and the Skeletons of the Dead Tree Forest to name a few, has been produced using a unique combination of state-of-the-art visual effects and old school style stop-animation (Super-Animotion) technology of yester-year.
"We thought it would be fun to produce Sinbad The Fifth Voyage retro style, using the same techniques they used in the 1950's and 60's, yet enhancing Sinbad with the tools we have available today. " - said up and coming Persian-American actor/director Shahin Sean Solimon who also writes, directs and leads as the character 'Sinbad'. "We are super excited to make this production a reality; it was a long time coming for the fans and the Giant Flick production team. Seeing Sinbad on the silver screen is the icing on the cake."
Sinbad the Fifth Voyage can be seen in major U.S. markets at Regal and AMC theaters, and is being exclusively distributed World Wide by Giant Flick Films LLC., It will be available soon in foreign territories and also on VOD (Pay Per View) Indemand, Vubiquity, DirectV, Netflix, DVD Blu-ray, Digital, and National Cable TV for the fans to experience.
For further information contact:
Josef Blake
Giant Flick Films.,LLC Hollywood CA