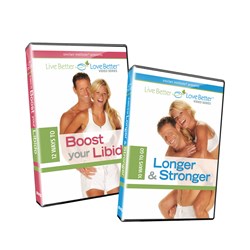 A happy, rewarding sex life makes most other aspects of life- whether the relationship or unrelated parts of life- just seem better, more worthwhile, brighter and happier. And that's what Sinclair, and great sex, are all about.
Hillsborough, NC (PRWEB) November 21, 2013
XBIZ released their 2014 Awards nominations today and Sinclair Institute® has received two nominations for their most recent releases "12 Ways to Boost Your Libido" and "10 Ways to Go Longer and Stronger" in the category Specialty Release of the Year. The films are part of the Sinclair's newest series, Live Better, Love Better™, and represent the first time they have produced titles that not only help with couples' intimacy and better sex, but also highlight gender specific sexual health concerns.
"We're honored to receive these nominations. While the sex education category continues to grow, Sinclair is committed to providing quality films featuring real couples, experts and the latest research, just as we have for over 20 years now," said Rebecca Cook Director of Marketing and New Business Development at the company.
Winners will be announced at the 2014 XBIZ Awards event scheduled for January 24, 2014 in Century City, CA.
About Sinclair Institute
Since 1991, Sinclair Institute® has developed an extensive library of videos and products covering everything from advanced sexual positions to erectile dysfunction solutions. The best selling Better Sex Video Series®, has sold more than four million videos in over 30 countries. Sinclair sex education videos help individuals learn about sexuality in the privacy of their home. Working with a diverse team of professional sex educators and therapists, Sinclair creates products that work by fostering communication and creativity between partners. The Better Sex® videos address topics many people find difficult or embarrassing to discuss.
About XBIZ
XBIZ™ hosts five annual trade events including the industry's top awards show of the year, the XBIZ Awards. XBIZ is frequently cited in the media for coverage of the industry and has been published in CNN, Fox News, Newsweek, MSNBC, Forbes, The Wall Street Journal, Wired, CNET, ABC, USA Today and Los Angeles Times among others.