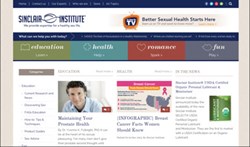 We realized that the internet is full of sex information, but how do you know if the source is credible?
Hillsborough, NC (PRWEB) November 19, 2013
Realizing that the internet is the fastest way to reach people seeking this knowledge, Sinclair has launched a new sexual health resource, http://www.SinclairInstitute.org, to assist in their mission to empower people to live positive, healthy lives. For more than 20 years the Sinclair Institute has been the trusted source of sexual health products and information for adults who want to improve the quality of intimacy and sex in their relationships.
"There is a lot of information out there, but much of it is not necessarily accurate or helpful. Due to the sensitive nature of sex and often ignored importance of sexual health on overall health and well-being, Sinclair first educates individuals on the importance of the subject, and then we are able to educate them on the topics specific to their individual needs," said Rebecca Cook, Director of Marketing and New Business Development at the company. Sinclair makes sexual health approachable, comfortable and relevant. By providing an education content rich site under the guidance of our Advisory Council, people feel safe and comfortable exploring new and varied topics, Cook continued
The website serves as a central location to house sexual health information in a variety of mediums, and is divided into categories of Education, Health, Romance, and Fun for ease of navigation. "People want quick and easy access to [sexual health] information and that is what SinclairInstitute.org is designed to be," said Betsy Grondy, Content Manager for Sinclair, "We hope to provide relevant content in a non-intimidating way to help people answer those questions they don't know where to ask."
The company plans a weekly publishing schedule of new information in a variety of formats in addition to their regular free sexual health webinars.
About Sinclair Institute
Since 1991, Sinclair Institute® has developed an extensive library of videos and products covering everything from advanced sexual positions to erectile dysfunction solutions. The best selling Better Sex Video Series®, has sold more than four million videos in over 30 countries. Sinclair sex education videos help individuals learn about sexuality in the privacy of their home. Working with a diverse team of professional sex educators and therapists, Sinclair creates products that work by fostering communication and creativity between partners. The Better Sex® videos address topics many people find difficult or embarrassing to discuss.