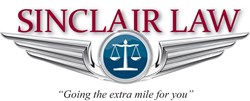 Melbourne, FL (PRWEB) February 14, 2014
Sinclair Law would like to announce its support of the 11th Annual Molly Mutt Fun Run. Held on Sunday, February 16, at the Central Brevard Human Society, the Molly Mutt Fun Run will be a great opportunity for locals to support the care of homeless animals in the area. The event will begin at 10am and all vehicles are welcome. The cost to participate in the run will be $7 per person or $10 for two. Additionally, donations of pet food and other supplies are encouraged and appreciated.
In addition to the run, there will be a number of other activities and events throughout the day. There will be a silent auction, 50/50 drawing, food, vendor displays, and music by Bern and the Bern-Outs. There will also be cash prizes for the "best," "worst," and "mystery" hands. All proceeds from the event will help the Central Brevard Humane Society raise awareness and support for abandoned and unwanted pets in the local area.
Brad Sinclair is happy to announce his participation in this annual event. As the proud owner of an original 1964 Harley Davidson Panhead, 1975 Harley Davidson Shovelhead, and a 1980 Honda CBX 1000, Sinclair enjoys riding any chance he gets.
Founded in 1952, the Central Brevard Human Society is one of the state's premier animal welfare organizations. Their vision is "No More Homeless Pets…Spayed/Neutered…Adopted." They spend their resources educating the community on proper treatment of animals, encouraging spaying and neutering, and placing abandoned pets in caring homes.
For more information on the Molly Mutt Fun Run, get in touch with the Central Brevard Humane Society at 321-636-3343 or ed(at)crittersavers(dot)com, or visit their Facebook page here.
About Sinclair Law
With over 30 years of personal injury and wrongful death legal experience, Brad Sinclair has been providing his legal expertise to victims in personal injury cases all throughout Brevard County in Florida, including the areas of Melbourne, Palm Bay, Cocoa Beach, and Titusville. Sinclair Law specializes in personal injury cases involving motorcycle accidents, automotive accidents, and truck accidents, and staffs former insurance claims adjustors to help with each case. Visit SinclairLaw.com today for more information.
###