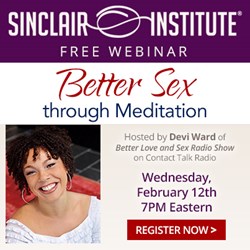 Our webinars are designed to provide information and solutions to people by connecting them with respected professionals in the sexual health community in an open and non-judgmental space
Hillsborough, NC (PRWEB) February 05, 2014
The Sinclair Institute® is the leading source for sexual health products for adults who want to improve the quality of intimacy and sex in their relationships. In line with this mission, Sinclair has announced that the next in their series of webinars will focus on Better Sex through Meditation, to be held on Wednesday, February 12 at 7:00 PM Eastern. In this sexual health webinar Devi Ward will present on how meditation can enhance your sexual experience. Plus, she will take questions from attendees live after the presentation.
Gaining knowledge about sexual health is important. "Our webinars are designed to provide information and solutions to people by connecting them with respected professionals in the sexual health community in an open and non-judgmental space," said Rebecca Cook, Senior Director of New Business Development and Mass Market at the company.
Sinclair webinars are free and open to anyone 18 years of age or older. Registration for this webinar is available at this link. Additionally, past webinars are archived on the Sinclair Website and can be watched at any time at no charge. View past webinars here.
About Sinclair Institute
Since 1991, Sinclair Institute® has developed an extensive library of videos and products covering everything from advanced sexual positions to erectile dysfunction solutions. The best selling Better Sex Video Series®, has sold more than four million videos in over 30 countries. Sinclair sex education videos help individuals learn about sexuality in the privacy of their home. Working with a diverse team of professional sex educators and therapists, Sinclair creates products that work by fostering communication and creativity between partners. The Better Sex® videos address topics many people find difficult or embarrassing to discuss.
About Devi Ward
Devi Ward is a pioneer in the field of sexual healing and empowerment for women. She is the author of "Shake Your Soul-Song! A Woman's Guide To Self-Empowerment Through The Art Of Self-Pleasure" and the host of Better Love and Sex with Devi Ward on Contact Talk Radio.
She is a Certified Tantric Healer, Certified Authentic Tantra™ Educator , and Co-Founder of Authentic Tantra™ Sexual Education. She is a qualified Tantrika of the Shangpa Kagyu Lineage of Vajrayana Tibetan Buddhism, and one of 2 people in North America qualified to teach the Secret Tibetan 5 Element Sexual Tantras.
Devi specializes in sexual healing for women, men, and couples. As a survivor of sexual and physical trauma, she offers experience-based guidance for catalyzing profound life transformation in the areas of sexuality & personal growth. Her instruction contains some of the most powerful and authentic Tantric teachings available today, modern, cutting-edge sex education, Compassionate Communication, and TantraFit™.
Devi helps women, men, and couples awaken to the inner passion, pleasure, shameless joy, and sensual confidence that is every human beings birthright through Sexual Healing & Empowerment Coaching Programs and Workshops, regardless of sexual preference or orientation.
Her goal is to help all women and men live lives that are deeply satisfying and fully realized.