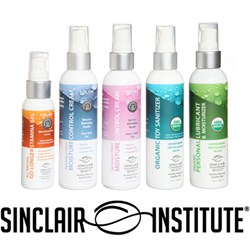 Mexico is one of the United States' biggest trading partners, and natural/organic products are some of the most in demand.
Hillsborough, NC (PRWEB) January 24, 2014
The Mexican Healthy Products Summit is organized to bring together the largest grocery, drugstore and convenience stores from across Mexico interested to stock healthy, natural and organic options across all departments. Sinclair will have the opportunity to meet one on one with buyers from chains representing more than 10,000 store locations countrywide. Some grocery stores who will be meeting with Sinclair include HEB Mexico, Soriana, Chedraui and Origenes Organicos.
Sinclair Institute is the only sexual health & wellness manufacturer attending this event and plans to show their USDA Certified Organic Line including Moisturizer & Lubricant, Sanitizer, Feminine Moisturizing Balm, Arousal Balm, Naturally Fresh for Him / Her Moisture Control Creams and All Natural Go Longer Stamina Gel for him, along with the Better Sex essentials® line of lubricants, sanitizer and massage oils.
"We are excited to test the waters in Mexico," said Rebecca Cook, Sr. Director of New Business Development and Mass Market. "Mexico is one of the United States' biggest trading partners, and natural/organic products are some of the most in demand. We expect to make great contacts and begin the process of educating buyers on the importance of sexual health and, more importantly, how we can supply Sinclair Institute Organics and Naturals," Cook continued.
The Mexican Government has recently made a long-term commitment to health education campaigns in the midst of the country's surge for healthier living. Mexico, being one of the largest markets for personal care products in Latin America, has an increased demand for natural and organic products that US suppliers like Sinclair are poised to meet. Products such as Sinclair Institute's USDA Certified Organic Moisturizer & Lubricant were in development over more than 2 years to ensure they meet the strictest of organic standards.
About Sinclair Institute
Since 1991, and with over 2.5 million happy customers, the Sinclair Institute® is the leading and most respected source for information, guidance and products focused on improving the quality of sexual health, intimacy and communication in relationships. Sinclair's Advisory Council is composed of the foremost sex educators, therapists, and researchers who help guide the development of Sinclair products and policies that reflect the concerns and needs of healthy individuals and couples who want to enhance their intimacy.