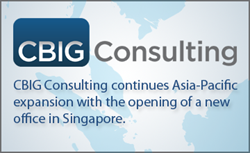 Chicago, IL (PRWEB) November 04, 2014
International Big Data / business analytics firm CBIG Consulting is pleased to announce the expansion of its Asia-Pacific footprint with the opening of CBIG's newest office in Singapore. As Big Data and business intelligence demand continues to grow within the Asia-Pacific region, spokesperson Cameron Price said the Singapore office provides a unique opportunity to best service that growth.
Price added that this latest expansion will closely model the successful launch of CBIG's Asia-Pacific operations 18 months ago in Sydney, New South Wales, Australia, which has seen an outstanding increase in its customer base.
CBIG Consulting looks forward to forging new relationships and partnerships as it establishes a physical presence in one of Asia's most exciting and dynamic cities. Price added, "Singapore is an ideal location in terms of everything it has to offer, in particular its high-tech corridor, and will ensure that CBIG's Big Data analytics and business intelligence expertise is readily available to all of our global customers throughout the region."
About CBIG Consulting (CBIG):
CBIG Consulting is an international team of experts in Business Intelligence, Big Data Analytics, Data Warehousing, and Cloud-based Analytics platforms. Selected by independent research firms and publications as a leading BI and Big Data analytics consulting firm, CBIG consultants average fifteen years of direct experience in the field. CBIG works with global enterprises, mid-size businesses, and non-profit organizations in solving mission-critical reporting and analytical needs. CBIG is headquartered in the Chicago, IL, area and has additional offices in San Francisco, Boston, Denver, Austin, Raleigh, and Seattle in the U.S., and Sydney and Singapore serving the Asia-Pacific region. For more information, please visit http://www.cbigconsulting.com.