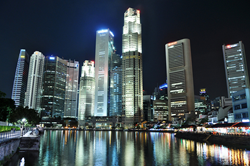 World Bank calls Singapore the world's easiest place to do business, partly due to the hassle-free way in which administrative matters are handled.
San Diego, CA (PRWEB) August 12, 2014
Singapore has become a growing force in the gold and silver bullion storage market, and the country announced that they hope to grow from their current control of two percent of the global gold demand to between ten and fifteen percent of the demand over the following decade.
The country currently holds appeal for high net worth buyers in the bullion market due to the 2012 repeal of the 7% tax that was previously held over physical bullion products in the country. Now gold owners can store their bullion products in secure, non-bank vaults in Singapore without paying additional taxes on these particular financial assets.
Due to the fact that Singapore has no jurisdictional ties to the United States, the gold that is being stored out of the country in a Singapore non-banking vaults yields no taxable value to the United States government and American investors have more security and protection in the storage of their bullion there than within the U.S stated in an article published on Personalincome.org.
They are also independent from Europe and any other country that might have residents wishing to store their physical gold and silver.
Singapore has a reportedly low crime rate, and has been recognized in the past for having one of the lowest crime rates in the world. Those investors storing bullion in non-banking vaults within the country are able to take their physical metals into possession and leave with no worry of an attack. There is also less worry in regards to loss of financial ownership as the stability of Singapore's financial standing has shown a constant rise, and is recognized as one of the wealthiest places to live per capita on the globe.
Singapore is considered as a free-trade country, meaning that they have high standards on property rights protection. There are no reporting requirements for storing or trading physical gold in the country, internationally or domestically, and import and export permits are not required for precious metals.
Laws and regulations in Singapore regarding trading, investing, and storing physical gold provides protection from legislation created by the United States government and other governments in Europe and globally that work to curb the precious metal trade. The government in Singapore is recognized for their billion dealers as well as their current efforts to promote precious metal trading within the country.
ETF shares are often one of the more popular options that a stock broker can show to a gold investor, but it's been proven that they don't provide the same security regarding risks and overall cost. Buying physical gold provides a stable and unwavering amount of profit that has shown previous levels of success on the market.
If you are looking to store gold in Singapore, check out our recommended gold IRA custodian RegalAssets.com
Source: http://www.worldbank.org/en/news/press-release/2013/10/28/singapore-business-friendly-economy-world-philippines-top-ten-improving-business-regulation