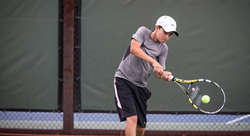 Our goal at SCA is to get kids involved with tennis at a young age, instill lifelong values, encourage teamwork, and promote a healthy lifestyle
San Rafael, CA (PRWEB) February 24, 2016
US Sports Camps' partner, Sports Camps Australia (SCA), will run camps in Singapore throughout March and April at The Tennis Club and SITA Tennis Academy. SCA Tennis Camps, designed for kids of all skill and ability levels, run for up to five weeks and are taught by a group of professional, positive, and passionate staff and coaches.
"Many parents in Singapore are already starting to look for the best tennis camp options for their son or daughter and whether their kid is looking to play at an elite level or just get introduced to the sport, we have coaches who can help them achieve their individual goals. Our coaches specialize in all areas and levels of tennis", says Mark Wilton, CEO of Sports Camps Australia and instructor of tennis at Dulwich School and Avondale Grammar in Singapore. "Our goal at SCA is to get kids involved with tennis at a young age, instill lifelong values, encourage teamwork, and promote a healthy lifestyle".
Each week of the tennis program consists of developing fundamental skills, participating in afternoon match play, daily coaching lessons on teamwork and strategy, and above all, making tennis fun.
The SCA Nike Junior Holiday Tennis Camp is limited to just the first 60 participants and will only be taking 30 campers per week at the tennis camp at SITA Tennis Academy. Parents and athletes interested in SCA Nike Tennis Camp can visit http://www.sportscampsaustralia.com.au/tennis/singapore or call Monday – Friday at +65 6348 6390.
About Sports Camps Australia
Sports Camps Australia (SCA) was founded in 2013 and is headquartered in Sydney, Australia. SCA have partnered with US Sports Camps, the largest and most successful sports camps operators in the world. US Sports Camps are responsible for running all Nike Sports Camps as well as other sponsored programs in this market.
About US Sports Camps
US Sports Camps (USSC), headquartered in San Rafael, California, is America's largest sports camp network and the licensed operator of Nike Sports Camps. The company has offered summer camps since 1975 with the same mission that defines it today: to shape a lifelong enjoyment of athletics through high quality sports education and skill enhancement. For more information visit http://www.ussportscamps.com or call 1-800-NIKE-CAMP