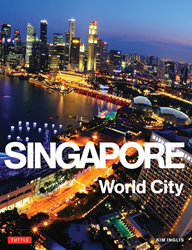 North Clarendon, VT (PRWEB) February 23, 2014
In just a few decades, the tiny island of Singapore has transformed itself from an Asian backwater into a global superpower in banking, IT, education, biotech and transportation. The fascinating story of how this small city-state with no hinterland, no natural resources and a small population, has achieved all of this is the subject of this book. The story about how it was achieved is nothing short of miraculous—if it didn't happen to be true.
In Singapore: World City, author Kim Inglis introduces readers to the city-state's art, architecture, food, entertainment and shopping industries through short introductory essays and more than 370 full-color photos. She explores Singapore's most notable neighborhoods and explains the growth and development of each – and even includes some sights that few visitors see or even hear about. From the world's only nighttime Formula One race to the city's thriving calendar of events, and its non-stop culture of eating, drinking and clubbing—Singapore has stepped out of the shadows and onto the world stage. Famed for its innovative business prowess, what is less known is that the island has more parks, gardens and recreational facilities than any other city of comparable size.
This book is now available and can be purchased in bookstores and online at Tuttle Publishing and Amazon.
About the Author
Kim Inglis, a writer and editor based in Singapore, specializes in books and features on interiors, architecture, design, food and travel. Holding a Master's degree in Sociology and Anthropology of Travel and Tourism, she has a passion for the culture, history and people of Asia. She blogs for Travel + Leisure magazine and is the author of many books, including Bali by Design, Tropical Home, The Indian Spa, and A Perennial Feast. You can see her work at http://www.kiminglis.com.
About Tuttle Publishing
Established in 1948 by Charles Egbert Tuttle Jr. in Rutland, Vermont and Tokyo, Japan, Tuttle Publishing is the premier publisher of English language books on Asian culture. Today, Tuttle maintains an active offering of books on a wide range of topics, including Asian culture, Asian literature, Asian architecture, Eastern spirituality, gardening, cooking, martial arts, crafts, travel, health and wellness, and fine art for a worldwide audience. For more information, visit http://tuttlepublishing.com.