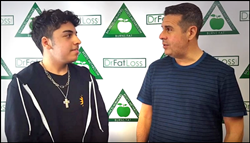 I just heard some of his music and this guy - up and coming rock star right here
BROOKLYN (PRWEB) May 28, 2019
Jaylen Max is an up-and-coming singer/songwriter/musician. Jaylen was accepted at his dream school, Berklee College of Music, in January 2019. Berklee College of Music is a private music college in Boston, Massachusetts. It is the largest independent college of contemporary music in the world. The acceptance rate at Berklee is about 29%.
Jaylen's new EP "About You" is out now and can be heard at https://www.jaylenmaxmusic.com/music
Brooklyn native Skeery Jones started in NY radio in the early 1990s and advanced to executive producer and radio personality on the Z100 New York nationally syndicated (27 cities) radio show Elvis Duran and the Morning Show. He had been working at Z100 before graduating from Brooklyn College in May 1996. Skeery Jones has been recognized with the Radio Music Award's Producer of the Year, among other distinctions.
Jaylen and Skeery have the same doctor, Dr. Enrico Ferdico (Dr. Fat Loss), and recently met at the doctor's Brooklyn office.
"I just heard some of his music and this guy - up and coming rock star right here" said Skeery Jones.
Jaylen grew up with his parents telling him that he would do something in the music industry. He always sung, even before speaking, singing popular songs in English and in Spanish and performing in front of his relatives. Jaylen's parents were a primary source of inspiration for him. Jaylen lost his father at a young age and overcame feeling grief and introversion, restoring a self-confident, can-do attitude. Jaylen is focused and working hard for future success in the music industry - getting accepted at Berklee College of Music is only the beginning.
Jaylen and Skeery meeting at Dr. Ferdico's offices was covered by the Canarsie Courier
https://canarsiecourier.com/the-good-doctor-wages-a-war-on-fat-p3485-199.htm