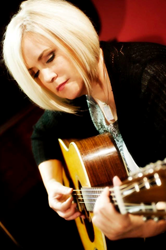 I was shocked to learn that my original tunes were resonating with different judges across all genres I submitted to. It was very unexpected.
Lawton, OK (PRWEB) November 12, 2015
The UK Songwriting Contest is one of the world's longest running and most popular international songwriting events, in association with prestigious bodies such as The BRIT Trust (of BRIT Awards fame), The BRIT Studio, The BRIT School, Music Aid UK and top British producers and international industry professionals with the aim of "discovering and encouraging new songwriting talent and promoting the craft of songwriting". Every year the event becomes more international with entries from around the world and with appearances of winners on major network TV shows worldwide. It is well known in the international music business as an important launching pad for new songwriting talent.
Among the hopefuls advancing to the 2015 semi-finals is Oklahoma's own, Beverly Perry, whose song "It Was Real" made it to the finals in the country music category in 2014. Diagnosed with a rare genetic disease, Acute Intermittent Porphyria, Perry was forced to leave her career with a medical company and move back to Oklahoma in 2012. "I found that songwriting was a needed creative outlet. For me, it's not about winning awards. There is something healing about creativity."
Songs in the contest are judged solely on composition, with exception of the singer/songwriter category in which vocal performance is also judged . Perry entered three songs in the singer/songwriter category this year, with all three advancing to the semi-finals. Placing in six categories with eleven entries, Beverly Perry says, "I am honored to have so many songs selected to be among the semi-finalists. The competition is stiff and music can be subjective." She adds, "I'm keeping my fingers crossed that at least one song will be a finalist again this year. It would be a dream to win a category. I am just happy that I have been chosen to advance in multiple genres this year. I was shocked to learn that my original tunes were resonating with different judges across all genres I submitted to. It was very unexpected," Perry concluded.
Among the 2015 judges are top music industry names:
Shelly Peiken - a Multi-Platinum Album, Grammy nominated hit songwriter who is well known for her #1 hits "What a Girl Wants" and "Come On Over Baby" with Christina Aguilera, and songs recorded by Meat Loaf, Miley Cyrus, Britney Spears, Ronan Keating, Backstreet Boys, Cher, Gladys Knight, Gloria Gaynor, Lindsay Lohan, Jessie J, Ed Sheeran, NSYNC and many more.
Stuart Epps - Stuart is particularly well known for his work with Elton John, Robbie Williams, Led Zeppelin, Bill Wyman, George Harrison, Paul Weller, Oasis and many others.
Marc (Kipper) Eldridge - He has two Grammy Awards and also an Emmy Award and his albums have sold more than 15 million copies. He has produced and worked with Sting, Stevie Wonder, James Morrison, Mary J Blige, James Taylor, Richard Marx, Clay Aiken, Chris Botti, Gary Numan, Catherine Zeta Jones and Curtis Stigers among many others.
Lucie Diamond - Female Artist of the Year and also Country Artist of the Year at The European Country Awards. Lucie has worked with Multi Grammy Award winners Delbert Mcclinton and Albert Lee and a host of international songwriters including Garth Brooks' writing partner Kent Blazy.
Simon Ellis - Musical Director for the Britney Spears' world tour, and also as MD for The Spice Girls, Belinda Carlisle, East 17, D:Ream and Jamelia. He has also written and produced songs for John Farnham, Randy Crawford, Emma Bunton, Steps, Hearsay, D Side, Javine, Maria Lawson, S Club 7. He is a winner of the BRIT Award for Best Song and ITV Record of the Year and has been nominated for an Ivor Novello Award.
Mark Cawley - Sold over 15 million copies worldwide. He has written or co-written songs for The Spice Girls, Tina Turner, Chaka Khan, Diana Ross, Joe Cocker, Wynonna Judd, Kathy Mattea, Russ Taff, Paul Carrack, Will Downing, Tom Scott and more. He has also worked with legendary songwriter Burt Bacharach and he had a UK number one hit with Billie Piper's song Day and Night.
The finals will be announced in December. Many past entrants have been noticed and signed by publishers, producers, and record companies. Perry says, "It is a great opportunity for songwriters. It's an honor just to be heard by music industry professionals".
For more information, please visit http://www.reverbnation.com/beverlyperry ; http://www.facebook.com/beverlyperrymusic ; http://www.beverlyperry.com/. You can also stream Perry's music on Spotify and iTunes