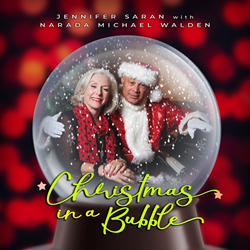 LOS ANGELES (PRWEB) December 03, 2021
Today, contemporary jazz singing star Jennifer Saran will releases her magically uplifting holiday single "Christmas in a Bubble." Written with her creative partner and producer, Grammy and Emmy winner Narada Michael Walden (Aretha Franklin, Whitney Houston, Mariah Carey), "Christmas in a Bubble" is a transporting musical gift for the holiday season that conveys a heartfelt and timely message of unity and grace.
Steam/download "Christmas in a Bubble" HERE.
Watch the music video HERE.
"The song brings to reality my dreamlike image of Christmas," says Saran. "Of course, the other reality is that things have changed because of Covid, and with that our shared perception of Christmas has changed. A lot of people have displayed compassion during this difficult time, but there's also anger and frustration, and some people aren't feeling as charitable as they once were. Christmas has always been a very special time for me and my family, and it's my hope to share that feeling with listeners and remind them that we can still spread that magic, no matter what is going on around us."
Indeed, "Christmas in a Bubble" unfolds very much like a yuletide dream. Walden's impeccable and expansive arrangement features elegant guitar playing by Brazilian six-string star Jose Neto. Over a lush rhythm bed, Walden and Justus Dobrin team brilliantly on piano – at times, their vibrant, twinkling melodies seem to take flight. "When I heard Jennifer's title, I was inspired to write chord changes and melodies that flew around like bubbles in a snow globe," Walden says. "It was like my heart just opened up, and I let the spirit of Christmas move my heart."
Conveying the song's poignant message, Saran turns in an exquisite and deeply impactful performance, singing "Life just got hard/ we stopped lookin' 'round/ used to reach out, and now just all frown." But she quickly offers a hopeful contrast, opening up her lustrous voice with the lines "But Christmas is a dream, Christmas is a dream/ just a dream, with magic in the air."
Says Saran, "It was important for me to present the two sides to the holiday season. People need to know that the hardships they feel are real, but at the same time, there's still goodness in everybody's hearts if they want to find it. I wanted the song to be a healing balm and remind listeners of sweet melodies and good feelings. It's always possible to be healed."
Accompanying the single "Christmas in a Bubble" is a striking video directed by celebrated filmmaker Andrew Thomas. Set in a veritable world of snow globes, the clip depicts the ways in which people are finding joys and sharing blessings – along with those who are facing difficult times – during the world's second Covid Christmas.
"Andrew Thomas did a fantastic job with his visual translation of the lyrics," says Saran. "The video presents all of these little vignettes of how people are marking the holidays. It doesn't shy from reality – people are masking up, and some people are in hospitals while others are talking to one another on Zoom – but it always comes back to beautiful themes of the holiday. At one point, when I sing, 'Magic in the air,' sparks fly up in the sky. I love that."
"Christmas in a Bubble" continues a tradition for Saran and Walden. The two have previously collaborated on albums such as 2015's Merry Christmas, You Are Loved and 2017's Soulful Christmas, mixing jingle-jangle classics with their own originals like "Christmas is Really My Thang" and "Christmas Lover" (on which Saran was joined by none other than the Temptations). Last year, set against the backdrop of the first Covid holiday season, the two turned in the swanky, jazz-tinged "(Don't Let It Be) a Sad Ol' Christmas."
"I love writing Christmas songs with Narada," Saran says. "We have such a great relationship, and oftentimes I just have to come out with a title and he immediately has an idea of the music to go with it. With 'Christmas in a Bubble,' I surprised him with the lyrics, and two days later he then surprised me with the music. He spent a lot of time working on a melody that fit the meter of my words, and I was thrilled at what he did. We've worked together so much that each one of us seems to know what the other wants."
For Walden, writing Christmas music with Saran allows him to express his warm feelings of the holiday season. "There's beauty in the air around this time," he says. "You can say hi to people on the street, say hi to your neighbors – there's a lightness around everybody." The superstar producer, who began his professional career drumming for the influential jazz fusion band Mahavishnu Orchestra, reveals another important aspect to Christmastime: "It celebrates the start of my musical adventure. When I was a kid, Santa brought me a set of toy drums. They were made of paper, and I destroyed them in 20 minutes. That's what hooked me on music, seeing how happy my parents and grandparents were. I want to keep that feeling going."
For more information, visit:
https://www.jennifersaran.com/
Media Contacts:
Michael Jensen and Erin Cook / Jensen Communications
mj@jensencom.com / erin@jensencom.com