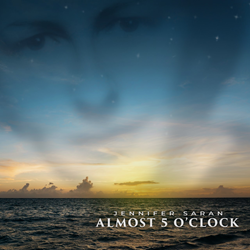 You think you know how you're going to feel when a parent passes, but you never really do until it happens. No matter how old we are, we think of a parent as somebody who will always love us and look after us, and I think that's true even when they're gone. That's what the song is about.
LOS ANGELES (PRWEB) September 21, 2021
On September 21, 2021, internationally acclaimed pop/contemporary jazz singer-songwriter Jennifer Saran is set to release one of her most deeply personal and gripping songs yet with "Almost 5 O'Clock" – a soaring, soul-stirring ballad that richly details her emotions in the wake of her mother's recent passing.
Co-written and produced by Saran's longtime musical partner Narada Michael Walden, "Almost 5 O'Clock" is accompanied by a poignant video (featuring photos from Saran's private collection) crafted together by award-winning filmmaker Andrew Thomas.
Watch the video HERE.
Listen to "Almost 5 O'Clock" HERE.
"I felt that I had to put my feelings into words, but I had to wait a bit until it was a little less raw," says Saran. "You think you know how you're going to feel when a parent passes, but you never really do until it happens. No matter how old we are, we think of a parent as somebody who will always love us and look after us, and I think that's true even when they're gone. That's what the song is about – I'm reflecting on the early morning my mother left this world."
Explaining the song's title, Saran says that it somehow relates to the Circadian Rhythm (a natural, internal process that regulates the sleep-wake cycle and repeats roughly every 24 hours) and how it's not uncommon for people to pass away in the wee hours of the morning. "It's been observed that people are particularly vulnerable around four or five in the morning," she says. "I had known about this phenomenon, but I wasn't connected to it personally until I witnessed it for myself."
She recounts how her family was gathered at her mother's bedside months before: "She was slipping away… Two minutes before five o'clock, she took a deep breath and started to come back. She was with us another five months, but I was very aware that when she would finally pass, it could be in the middle of the night. I wanted to stay with her in the hospital when she became very weak, so she wouldn't be alone."
For a while, Saran wasn't ready to interpret her emotions in lyrics, but when she finally allowed herself to write, the words poured forth in a torrent. "I had been living them," she says. She sent the lyrics to Walden, simply explaining that they were "about my mother," and a short while later she heard the music that he composed – an enveloping swirl of strings, piano and horns over an elegant rhythm. "It was beautiful. Narada is always such an intuitive artist, but this time he really overwhelmed me. He captured everything I was saying in a way that was extraordinary."
Normally, Saran is sometimes a one- or two-take performer at the mic, but when recording the vocals for "Almost 5 O'Clock," she admits, "I had to stop several times. I would take a little walk and collect myself."
Her reaction to the finished song? "Oh, my goodness. I got a tightness in my chest, and I had a good cry."
Saran talked to Andrew Thomas about creating a "memory collage" for the song's video, but the two realized that, while the unfolding story would incorporate photos of the singer and her mother, it was important dramatize the narrative in a way that others could relate to. "I think Andrew did a wonderful job," Saran says. "Even though you're looking at pictures of my mother and me, I think it's possible to see one's self in them. You can attach your own memories to the images."
With both the song and video, Saran is hoping that listeners aren't struck by sadness, but rather, that they could focus on the time they have with loved ones. "You always think that you should have done more, said more," she says, "but if you can feel that way while somebody is still with you, then I feel that's a very positive approach to living. You can spare yourself and those you love a sense of regret if you just live in the moment and make that moment count."
At the same time, Saran has announced a complete remake of her website, a beautifully appointed and user-friendly destination for fans to check out music and videos, and to remain apprised of the singer's latest endeavors. "I absolutely love the way the new website looks," she raves. "Our designer, Amy Ryerson, really captured the human side to me and gave everything on the site so much depth. Eventually, I would like to have a page or a banner related to charity, as there are a number of causes I support. I'm so happy at how the site turned out, and I'm looking forward to my fans seeing it for themselves."
For more information, please visit:
https://www.jennifersaran.com/
Media Contacts:
Michael Jensen and Erin Cook, Jensen Communications, erin@jensencom.com