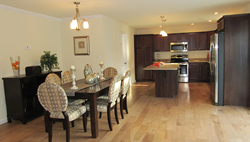 LEMOYNE, Pa. (PRWEB) January 13, 2017
Two separate communities of single-family homes near Harrisburg offer quality residences adjacent to major urban centers and attractions. The communities, named Morgans Run and Tall Oaks, were developed by Lemoyne-based home builder R&L Homes.
Lots at Morgans Run are now available for two-story single-family homes built from a menu of existing plans customized to individual tastes. Construction of Tall Oaks has begun and will open in Spring 2017. Limited to 16 home sites on a cul-de-sac, lots from one-third to seven acres can accommodate a variety of single family home styles and sizes. Most have wooded backyards with some situated high above the nearby Susquehanna River, providing unobstructed river views as well as vistas of Harrisburg's skyline and Capitol dome.
"The large lots at Tall Oaks offer plenty of privacy and room to roam," said Greg Rhodes, President of R&L Homes. "While set in the rolling Central Pennsylvania countryside, the community is within easy reach of Harrisburg as well as Hershey, Elizabethtown and Lancaster." The home builder added that the planned Tall Oaks neighborhood of single-family homes is also close to major cities via its location near Interstate 83 and the Pennsylvania Turnpike. "Driving anywhere in the region will be quick and easy if you live in Tall Oaks," he said.
Morgans Run homes have open floor plans with gourmet kitchens, all-new appliances and two car garages. The home builder can further provide interior design assistance to customize existing layouts. R&L Homes can similarly customize Tall Oaks residences, and due to the neighborhood's reasonable size, homeowners will feel like they're in a tightly knit hamlet versus a gigantic development.
R&L Homes is at 1300 Market St., Suite 307, Lemoyne, Pa., 17043. Telephone is 717-730-7050, or on the Internet at rlnewhomes.com.
Opened in 1976, R&L Homes has been serving Central Pennsylvania as a premier home builder of quality single-family homes and townhouse communities. Residences come with superior features including new appliances, cabinets, lighting and plumbing fixtures which can be upgraded in three tiers to create a customized home. Unlike other builders, R&L Homes offers a complimentary built-in warranty presented at closing from an independent firm to ensure sound workmanship following completion.