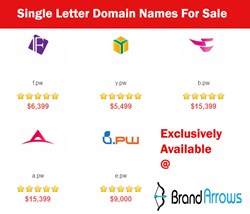 Get Names For Tomorrow's Hot Companies
(PRWEB) December 10, 2013
Brand Arrows has emerged as a one stop brandable .com domain names marketplace for all kinds of businesses ranging from retail, security, construction to entertainment, fitness, software firms etc. The Brand Arrows Marketplace hosts a variety of unique domain names.
It is to be understood that most of the customers do not find any point in buying a branded domain with a name at a premium when the same is available at cheaper rates. But it is imperative that these names are absolutely related to their businesses or products. Needless to say those crisp, short and unique names are preferable.
BrandArrows does exactly this, it brands majority of names which are non-keyword ranging from single to six letters and even more. They mainly focus on .com brandable business names. These vague names which have no meaning become crucial at the time of internet advertising and occupying the web space as these names pop up more often due to general words involved in their names as compared to their counterparts who have stringent names.
In a latest announcement, BrandArrows has listed domain names in terms of single letters assigned to various products from sale. Get single letter domains a.pw, b.pw, f.pw, e.pw, y.pw exclusively at Brand Aarrows for affordable prices. As many brands like to acquire short names especially which are .com but since single letter .com's are not available, brands can acquire .pw domains now for affordable prices. PW is now called as professional web so any one can use it.
However the purpose of such attribution is that these single letters are actually "brandable" domain names which, if purchased, are exclusive to a commodity and facilitate the creation of a niche web space for the client companies. Henceforth, the firms enjoy search engine optimization as well as command a better web presence as compared to their competitors. The letters on the list remain unique to the product after sale.
This is for the first time that BrandArrows has listed five 'single' letter domain names, the existing domain names three, four, five and six lettered are .com domain names. Also, a spokesperson from Brandarrows has stated that these single letters have been assigned after receiving numerous applications across various categories of businesses which it serves.
After today's announcement, they can be viewed as a one-of-its-kind brandable domain name game player as well as a one which reflects the increased expectations of the clientele. Henceforth, the clients will expect these 'one letters' to bring fortune to them by an increase in not just their visibility but also in their turnovers. More information on how to get the names can be found at help.
About BrandArrows:
BrandArrows is a leading marketplace for brandable .com domain names. Their aim is to differentiate the businesses from the others by providing short and unique brandable domain names. These domain names are non-keyword based and hence are not restricted to specific search inputs. Ever increasing list of domain names on this site is testimony to the success of these peculiar domain names. Inclusion of single letter pw domain names has definitely set a new trend in the online domain names market. Buyers can capitalize on this opportunity and create a brand for their start up with ease.