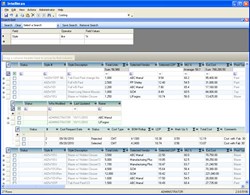 Enhanced usability is even more critical when you collaborate with vendors all over the globe...
Summit, NJ (PRWEB) September 19, 2013
Singletree Technologies, an innovative supplier of software to Retail and Wholesale brands in the Fashion Industry, has announced it will sponsor Gerber Technology's annual software conference called Ideation2013. Singletree will showcase the latest release of its software product Intellimas®, a grid based application that helps enterprises better manage data in their Product Life Cycle Management or ERP systems. Singletree will show how Intellimas® can improve the user experience of nearly all software implementations. Intellimas® is ideal for business processes which require both mass data entry and analysis at the same time. Customers have used Intellimas® to manage business functions such as Comprehensive Product Costing, Sample Tracking, PO generation, Work in Process Tracking, Quality Management, and Vendor Compliance.
"No software implementation completely aligns with the expectations of the client," said Shane Walters, CTO of Singletree Technologies. "Intellimas® is a cost effective extension that closes implementation gaps while improving the user experience. Enhanced usability is even more critical when you collaborate with vendors all over the globe and our customers have seen this first hand."
Vincent Candela, President of Singletree Technologies said, "Once again, we are pleased to partner with Gerber Technology to sponsor their annual user's conference. We have a long history of working together to provide strategic solutions to the fashion and retail industries. Sponsoring this conference consistently allows us to get in front of new prospects and existing customers to showcase our software."
About Singletree Technologies
Founded in 2001, Singletree Technologies, LLC is a software and consulting company that focuses its efforts on streamlining the business processes of Retail and Wholesale companies in the Fashion Industry. Their applications are always created with usability and flexibility in mind. Learn more about Singletree at http://www.singletreetech.com.