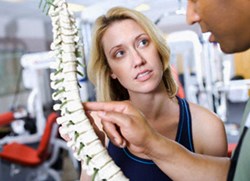 The human body is the best healer (...) A few simple chiropractic adjustments can lead the way to a healthier nervous system to fight the histamines that cause frustration for millions of Americans this time each year
North Olmstead, OH (PRWEB) July 03, 2013
Experienced in treating sinus allergy symptoms by naturally strengthening the nervous system, the multi-disciplinary clinic Dreas Healthcare now offers a free consultation and pre-allergy exam in light of the peaking 2013 allergy season. Ohio State alumnus and Cleveland local Dr. Steven Papandreas, founder of the clinic and head of a staff comprised of certified doctors, physical therapists and massage therapists says drug-free chiropractic treatment is a natural, lasting alternative to reduce the irritating effects of allergies.
"The human body is the best healer," Papandreas said. "A few simple chiropractic adjustments can lead the way to a healthier nervous system to fight the histamines that cause frustration for millions of Americans this time each year."
A University of California San Francisco study confirmed growing evidence that the nervous system directly influences the immune system. "It has prompted new experiments to determine if the nerve-generated signal or its receptors in the immune system might make good drug targets to control asthma or allergies," the study reported.
"A number of patients come in sick all the time," added Dr. Papandreas. "Once they get adjusted, their T-Cell count rises and boosts their immune systems so they don't feel the overwhelming sinus allergy symptoms as often or as strong."
According to Dr. Papandreas, people suffer from either hypersensitivity or hyposensitivity because the brain is not responding properly when common things like pollen, dust and pet dander enter the system. "Chiropractors are like the engineers who connect telephone wires – they unite the pieces that link the nervous system to the immune system so they can better communicate and respond to unwanted allergies."
A published study by the Ashtma and Allergy Foundation of America revealed that approximately 40 million people in the U.S. suffer from indoor/outdoor allergy symptoms, ranging from coughing and sore throats to watery eyes, and runny or stuffy noses. Experts forecast that Americans will face the worst allergy season in 10 years due to lower winter temperatures and unusually high pollen counts.
"For weeks straight, I didn't even look or feel like myself," said one of Dreas Healthcare's allergy patient. "I was fed up with the puffy, itchy eyes, constant sneezing and pricey allergy medications. So, I went to see Dr. Papandreas, who, treatment by treatment, significantly helped weaken my reactions. I finally feel back to normal again."
While allergy medications have proven successful and temporarily relieve allergies, Dr. Papandreas said considering chiropractic sinus allergy treatment can help the body naturally perform the way it is supposed to. "Nerves in the neck control the entire immune system, so instead of spending hundreds or even thousands of dollars each year on allergy medications, a few simple adjustments with a chiropractor offer a natural way to keep the immune system strong to not only fight allergies, but other harmful illnesses as well."
Dreas Healthcare offers a free-consultation and pre-allergy exam to patients seeking allergy relief. More information about Dreas Healthcare programs and therapies can be found at http://www.DREASHealthcare.com.
About Dreas Healthcare
Dreas Healthcare is where Physical Therapy and Chiropractic combine forces to give patients the most comprehensive care for their condition, with a personalized touch. Clinic Director, Dr. Steven Papandreas, is a member of the Ohio Chiropractic Association, Licensed in Ohio and Great Britain, and has vast expertise in non-surgical Spinal Decompression Therapy, consistently performing an average of 10 treatments per day, for the last 10 years.
The multi-disciplinary clinic has over 90 years of combined experience, and offers wide range of therapy options. Services include: chiropractic, isometric stretching, massage, deep tissue therapy, electric stimulation, ultrasound, traction, non-surgical decompression, physical therapy, and closed-circuit training with Nautilis equipment. The clinic is also equipped with on-site x-ray capability, Zero Gravity Massage chairs, and Pro Vibe.
Dr. Steven Papandreas' proficiency has secured partnerships with the Cleveland Clinic, The Cleveland Browns team, WWE talents, and the Scottish Rugby team, in Scotland, where he lived and worked for five years. For more information, call: 440-779-4226.