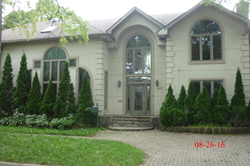 Chicago, IL (PRWEB) November 15, 2016
Online auctioneer Micoley.com announces the upcoming auction of a luxury, colonial-style home in Chicago, IL. The residence is part of a late-December auction featuring properties across the country.
Property 989, AKA 7055 N Sioux Ave, Chicago, IL (zip: 60646) is a two-story, 3,042-square-foot building on .14 acres. It was built in 1996 and includes five bedrooms and 3.5 bathrooms. The luxury home features custom stained-glass windows, hardwood floors, custom woodwork, and a spiral staircase, among other attributes. The master bedroom leads to the top deck of the home, while the kitchen leads to a lower deck that includes a fantastic barbecue space.
The luxury home is located within the Town of Jefferson municipality in Cook County. This area features many options regarding outdoor recreation and entertainment. Cultural and historical attractions include the Cedarhurst Center for the Arts and the Jefferson County Historical Village, while outdoor recreation possibilities include the Forest Preserves, golf courses, camping, biking and hiking trails, and much more. The Mt. Vernon Outland Airport is located in the Town of Jefferson as well.
Sellers behind this luxury property and other properties for sale on December 21 encourage interested parties to make early bids, as they will review offers prior to the auction date. The home is listed at $789,000.
About Micoley.com Powered by RealtyHive:
Micoley.com Powered by RealtyHive was created to "transform the real estate industry." President and CEO, Wade T. Micoley has served as a real estate industry leader for more than 30 years, and continues to provide marketing solutions to his wide range of clients.
"Today we serve the real estate community in both the banking and private sectors with customized, accelerated marketing programs," said W. Micoley. "Programs can be tailored for financial institutions, commercial and corporate clients as well as the individual property owner to help face our current and unpredictable economic environment. As a result of our aggressive marketing plan, Micoley.com Powered by RealtyHive has successfully assisted many clients across the United States."