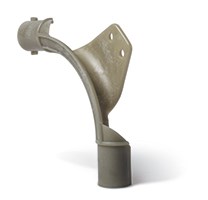 Kansas City, Missouri (PRWEB) August 15, 2013
Rough plumbing manufacturer, Sioux Chief, announced its new Simple Bend Support for ½" PEX tubing installation.
The Simple Bend Support is a plastic elbow that is open on each end allowing plumbing contractors to install ½" PEX tube in order to maintain the proper 90 degree radius when directing a supply line from a manifold to fixtures.
The product can also be used as a stub out bracket and is ideal for reducing stress on the pipe when directly connecting PEX to the shower valve.
Simple Bend Support is engineered with 40% glass filled nylon.
The product is manufactured by Sioux Chief in the USA and includes a Limited Lifetime warranty.
Sioux Chief products are sold through wholesale plumbing distributors nationwide.
More About Sioux Chief:
Since 1957, Sioux Chief has manufactured innovative plumbing products. It is a leader in providing rough plumbing solutions for residential, commercial, industrial and government applications. Sioux Chief's comprehensive product line is comprised of three core groups: Supply, Drainage and Support. Sioux Chief products are sold to qualified wholesale distributors and retailers worldwide. The company is headquartered in Peculiar, Missouri — just outside of Kansas City.
For more information call 1-800-821-3944.
Contact Information:
24110 South Peculiar Drive
Peculiar, MO 64078