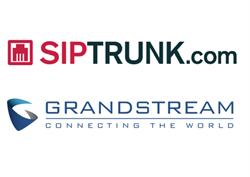 "This new compatibility announcement will not only enhance the relationship between Grandstream and our partners by adding a competitive edge, but also provide an an added value to SIPTRUNK.com..." - David Li, Grandstream CEO
Atlanta, GA (PRWEB) January 19, 2016
SIPTRUNK.com, a brandable SIP trunking service platform for agents, dealers and resellers and Grandstream Networks, connecting the world since 2002 with award-winning SIP unified communication solutions, announced the platform's office compatibility with the complete line of Grandstream GXW IP gateways and UCM IP PBX systems.
Starting today, Grandstream Network partners worldwide can now easily resell SIP trunking services without the hassles of becoming a service provider.
"We're excited to announce that SIPTRUNK.com is now officially compatible with Grandstream GXW gateways and IP PBX systems," said Marc Fribush Managing Director of SIPTRUNK.com.
"The SIPTRUNK.com platform solves the pain most Grandstream dealers and resellers have with SIP trunking services. Our process of new account sign-up to live service takes less than 10 minutes, and we take care of the end customer billing and taxes all while providing invoice-level detail into commission payouts. We've made it simple, easy and profitable to sell SIP trunking in conjunction with Grandstream solutions."
Grandstream Networks partners who join the SIPTRUNK.com SIPSIMPLE™ Certified Dealer program can now:

Gain access to their own brandable SIP trunking service platform
Free demo trunk with 100 minutes to test inbound and outbound calling
Provision new end user accounts in under 60 seconds, start to finish
Sell DID's, unlimited SIP trunks, scalable per minute packages, inbound toll free, outbound international and HTTPS fax services
Earn monthly recurring commissions on all service revenue
Certified SIPSIMPLE™ Dealers also gain access to branded sales collateral and training, giving them everything they need to successfully resell SIP trunking services. The SIPSIMPLE(™) program is free to join and get started.
"This new compatibility announcement will not only enhance the relationship between Grandstream and our partners by adding a competitive edge, but also provide an an added value to SIPTRUNK.com, making it easy to deliver their services to Grandstream partners and ultimately opening the door to profitable connections" said David Li, CEO of Grandstream.
To learn more about the SIPTRUNK.com brandable SIP trunking service platform or to become a SIPSIMPLE(™) Certified Dealer, please visit http://www.SIPTRUNK.com.
About SIPTRUNK.com
SIPTRUNK.com is the simple, easy and profitable way for VoIP distributors and dealers to sell SIP trunking. With SIPTRUNK.com, account creation to live service happens in less than 10 minutes! SIPTRUNK.com is brandable, handles all end user billing and complex telecom taxation collections, can be configured for multiple partner levels and provides transparent commission reporting all backed by service and support personnel with decades of experience. For more information or to sign-up, please visit http://www.SIPTRUNK.com today.
About Grandstream Networks
Grandstream Networks, Inc. has been connecting the world since 2002 with SIP Unified Communications products and solutions that allow businesses to be more productive than ever before. Our award-winning solutions serve the small and medium business and enterprises markets and have been recognized throughout the world for their quality, reliability and innovation. Grandstream solutions lower communication costs, increase security protection and enhance productivity. Their open standard SIP-based products offer broad interoperability throughout the industry, along with unrivaled features and flexibility. Visit http://www.grandstream.com for more information.