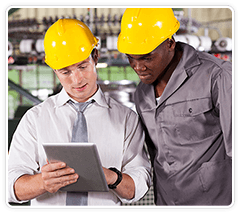 The observation sessions act as one-on-one refresher training sessions where employees feel connected and engaged. -- Katie Christ, FONA International
(PRWEB UK) 29 May 2014
Alchemy Systems, global specialist in food and workplace safety, has launched a new mobile tool enabling food manufacturing supervisors to drive operational efficiencies and job compliance as well as empowering safety and quality compliance.
SISTEM Coach, a tablet based app, facilitates safety and productivity observations on the factory floor, allowing supervisors to assess levels of training compliance and verify behaviour. The Coach app is integrated with Alchemy's SISTEM platform, a leading food safety training and compliance programme that is used by more than 400,000 employees at over 1,700 food production facilities worldwide.
Currently available on the Apple iPad SISTEM Coach gives an easy-to-use, mobile way to conduct reviews and provide immediate remedial and positive feedback to front-line employees. Empirical research shows that when corrective observations are conducted in accordance with effective training employee behaviour compliance increased an average by 26%.
Jeff Eastman, CEO of Alchemy Systems said: "The food industry has made tremendous progress in developing best practices for safety and production. With the new Coach app, companies can provide front-line supervisors and managers with a valuable tool to implement the best practices and develop a culture for continuous improvement. Coach also enables companies to easily document the many hours of on-the-job training they provide to front-line workers."
"The Coach app is easy to use for all levels of employees. Managers, team leads, operators, supervisors and internal auditors have all used the Coach app effortlessly in our business with tangible results," says Katie Christ at FONA International.
"It has really increased face-to-face communication between supervisors and employees and between internal auditors and auditees. The observation sessions act as one-on-one refresher training sessions where employees feel connected and engaged."
For more information, visit http://www.alchemysystems.com.
About Alchemy
US based Alchemy Systems is a global leader of innovative technologies and services designed to align employee behaviour with a company's quality and safety commitments.
Over the last decade we have partnered our customers to increase productivity, ensure compliance and build safe working environments in which to produce quality products.