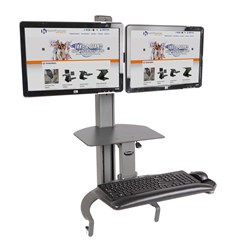 Los Gatos, CA (PRWEB) September 05, 2013
We've Got Your Back is pleased to announce the availability of a new sit-to-stand desk called the TaskMate Go.
The TaskMate Go quickly and securely coverts any desktop to a sit-and-stand workstation. Features include:

Premium keyboard tray with wrist rest standard
Easy height adjustment
VESA standard monitor mounting
Auxiliary work surface included
Built-in copy holder standard
Optional dual monitor mounting accessory available
This revolutionary sit-stand desk is chock-full of features that set it apart from any other sit-stand desks currently available on the market. Its heavy-duty steel construction allows many trouble-free years of use. Unlike its competitors, this sit-to-stand table-top workstation can be used easily in a corner desk or cubicle setup. An innovative two-point clamping system provides unparalleled stability. The Taskmate Go sit stand desk comes fully assembled, and is designed and manufactured in the U.S.
We've Got Your Back has been demonstrating the unit since it was first released in May. The product has been well received and is being adopted as a standard by major companies in the Bay Area. Customers enjoy the flexible healthy work style supported. The product is available to support single or dual-monitor workstations and has a variety of accessories to support the variety of daily work tasks. For more information, visit http://www.back2active-bayarea.com.
About the company:
We've Got Your Back is a women-owned business that delivers best-in-class products and services in ergonomic office accessories and seating, fitness gear and comfort solutions. Its goal is to provide education, information and products that ultimately eliminate the root cause of back pain and neck pain. The showroom in Los Gatos was designed to serve the community with educational programs, fitness training and product demonstrations.
We've Got Your Back offers its products and solutions to support the home office, telecommuter or the office workstation with training, chair fittings, ergonomic assessments and lifestyle support programs. Products include ergonomic seating, zero gravity chairs, neck pillows,massage chairs, sit-to-stand desks, doctor-recommended pillows and more.