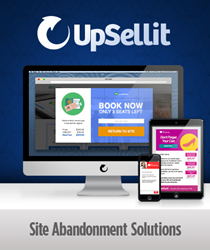 Referencing volumes of customer and non-customer insight, we were able to build out a line of proprietary technologies and targeted strategies to intelligently reduce abandonment.
Westlake Village, CA (PRWEB) February 10, 2015
UpSellit engages and converts abandoning shoppers with dynamic and personalized engagements for over 3,000 online businesses, boosting profitability by up to 25%. Today, UpSellit is proud to announce its 10th year of business. To date, UpSellit has recovered over 23 million conversions.
Since 2005, UpSellit has led the charge in reducing site abandonment. Over the last decade, UpSellit has researched, analyzed and tested hundreds of strategies for reducing every stage of site abandonment. UpSellit's Suite of Site Abandonment Solutions recovers otherwise lost conversions with a mix of email and on-site technologies.
"When UpSellit first started, site abandonment solutions weren't really on any marketer's radar," said Tom Kogler, Co-Founder and CEO. "We pioneered the industry with our automated chat solution and were able to gather incredible insight into the different stages of and reasons for site abandonment. Referencing volumes of customer and non-customer insight, we were able to build out a line of proprietary technologies and targeted strategies to intelligently reduce abandonment."
Full-Funnel Abandonment Strategies
With billions of shopper engagements, UpSellit has advanced online customer recovery from a guessing game to a precise science. UpSellit's abandonment experts are all trained in identifying probable causes for each individual website's product, cart and checkout abandonment. After the initial site abandonment review, potential partners are offered an in-depth site analysis in which UpSellit's tag is placed on the partner's website and all shopping behavior is monitored.
Before prescribing an abandonment solution, UpSellit analyzes shopper behavior to identify under-performing traffic segments and purchase processes. Combining shopper profiles with thorough conversion funnel analysis, UpSellit develops highly targeted engagements that offer personalized messages at the perfect time to ensure the highest increase in online conversions.
Proven Proprietary Technologies
In 2005, UpSellit launched the industry's first chat engagement that deploys on abandonment. By detecting the unload of a webpage, UpSellit was able to intercept abandoning visitors using in-browser alerts, much like when people abandon an unsent email draft.
Over the years, UpSellit developed a much more sophisticated abandonment detection process called the Predictive Method. By analyzing hundreds of visitor and session metrics, UpSellit became the first abandonment solution to accurately predict the exact moment of site abandonment and seamlessly engage targeted shoppers.
UpSellit then began testing the collection of email addresses from abandoning users. Using the same abandonment detection methods employed with its Abandonment Chat solution, UpSellit realized that for a small discount users would provide their email address before leaving a site, allowing for future email remarketing.
Email collection was then tested alongside on-site promotions that only required a click to apply the discount. UpSellit quickly realized that there wasn't a single best approach, but rather a combination of factors contributed to the most effective customer recovery strategy.
Today, UpSellit boasts a robust suite of feature rich solutions that allow online businesses to deliver completely custom engagements to precise segments of traffic in order to deliver the highest possible increase in profitability.
###
UpSellit develops customer recovery campaigns for leading online businesses ranging from Lenovo Computers to Easton Sports. On a 100% pay-for-performance price model, UpSellit increases profitability by reducing site abandonment at every stage of the conversion funnel. Combining on-site and email remarketing technologies with proven strategies, UpSellit increases online conversions 5-25%. To learn more about UpSellit, visit http://www.UpSellit.com or call 1-866-504-9619.